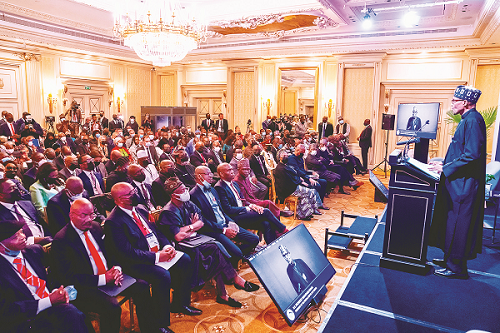 President Muhammadu Buhari has invited French investors to come and put their money to work in Nigeria, as he assured them of a safe business environment.
During his keynote address in Paris, France, during the one-day Nigeria International Partnership Forum, Buhari, in spite of the alarming inflation rate and foreign exchange challenges, assured that the country's economy is going through a re-engineering process and re-positioning.
"Let me stress that Nigeria is open for partnership and cooperation. I invite the French business community to take advantage of the vast investment opportunities in Africa's largest economy.
"As our development partners, rest assured that we will stand together with you throughout our partnership journey to guarantee our mutual interest," Buhari stated.
According to the President, the being re-engineering and re-positioning process are expected to make Nigeria's economy to be globally more competitive and favouring businesses for development.
In his words, "For us in Nigeria, lessons drawn from the pandemic prompted us to redouble efforts to mitigate its socio-economic effects. Despite prevailing uncertainties, our equitable and sustainable reform initiatives resulted in substantial economic gains and steady recovery.
"I can assure you that our administration is on the right path to achieving multi-sectoral progress. We have revitalised the economy by increasing investments in capacity building, health, infrastructure, women's empowerment, climate change, and food security.
"Today, these actions are yielding self-employment, expanding our human resource pool, and strengthening our national productivity for sustainable development."
Buhari expressed confidence that his administration is committed to creating a win-win situation at every point.
"I am proud to reiterate our resolve to reduce and ultimately eliminate obstacles to access and retention of FDI. Our investment-friendly policies are backed by the rule of law, practical security policies, and a resilient population," he added.
Upshot to Buhari's claims
Unmask NG understands that the president might not have been honest with the French business community, as he lured them into investing their resources in the Nigerian economy.
It is an open secret that in many decades, the most populous African nation is facing her most difficult time, as it relates to insecurity, inflation, and forex instability.
And in any environment that these three challenges co-exist, it is unlikely that businesses would not struggle to thrive.