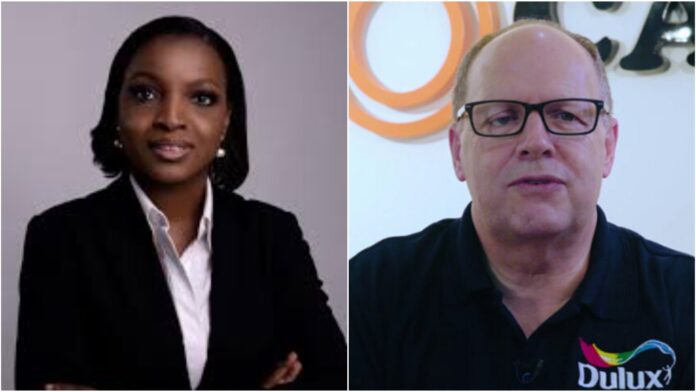 Managing Directors (MDs) of Portland paints and Chemical and Allied Products (CAP), Bolarin Okunowo, and David Wright, have respectively reacted to a proposed acquisition deal.
Recall that Chemical and Allied Products was set to take over Portland Paints' assets, liabilities, and business undertakings including its real property and intellectual property rights.
With the deal, both companies are evaluating merging their businesses together. And as a result, shareholders of Portland Paints will be paid by cash or share in CAP.
According to a statement, Okunowo stated that "In recent months, the Board and management of Portland Paints have evaluating various strategic options with a view to position our company to capture emerging growth opportunities. CAP's business is complementary to ours, and both companies will be better able to serve our respective customers by coming together. I believe the combination of Portland paints and CAP will yield significant benefits for all of our stakeholders."
In response to the proposed deal, the Managing director of CAP, David Wright said: "The decision to pursue the proposed Merger is driven by the board strategic plan to aggressively grow within the Nigerian and African markets. We believe that the proposed merger presents a unique opportunity that will benefit all stakeholders, from shareholders to customers as well as the broader community;
I am excited by the prospect of an enlarged company with a broader decorative paint portfolio covering the premium, mid market and affordable segments and the inclusion of marine and protective coatings, all of which will benefit our customers and shareholders."
What Portland paints' shareholder gain from merger?
With the merger still subject to regulatory and corporate approvals, a sum of NGN2.90 kobo cash for every Portland Paints share held or receive 1 new ordinary share of CAP, credited as fully-paid up for every 8 Portland Paints shares held has been offered to shareholders of Portland Paints – a subsidiary of UAC.
While giving reasons for the price offer in a joint statement, the duo companies said, "The proposed consideration represents a 45% premium to the last traded share price of Portland Paints on October 16, 2020, being the last business day prior to the date on which CAP sent its merger proposal to the Board of Portland Paints and a 41% premium on the trading price as at close of trading on October 23, 2020."
What you need to know about the proposed merger
The proposed deal which still awaits share holders and regulatory approvals will better position the company and enable Portland paints capture emerging growth opportunities.
Once the merger is approved, Portland Paints will no longer exist, as CAP will become the identity of the new entity. Portland Paints' assets, liabilities and business undertakings including its real property and intellectual property rights will be transferred to CAP.