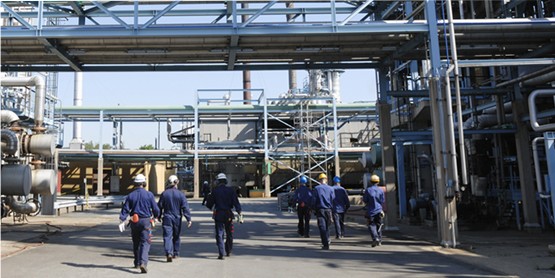 Saba Steel Nigeria Limited, one of Nigeria's largest steel product manufacturers, may henceforth have a lot to deal with, as a Twitter user called out the company over a horrific accident that cost her brother's life.
Unmask NG learnt that the deceased passed away on Thursday, July 16, 2020.
In a series of tweets on Monday, July 20, the user who's a makeup artist and a stylist by profession, said her brother worked for Saba Steel, and an occupational hazard at his workplace, led to his untimely death.
While seeking justice for the death of her brother, the lady accused Saba Steel of trying too hard to cover her brother's death.
"I lost my brother yesterday (July 16) to an accident at work,he works with saba steel industrial company at amuwo odofin we were not told what happened until we got to hospital his corpse was not shown to us until we start fighting with people from the company this is my brother before," the Twitter user wrote on her page.
She continued; "The accident we were told it was a minor accident on his arm when we got to the hospital with plenty fight and shouting we were allowed to see our brother this was what we saw my brother head was splinted into two that was why they were hiding the corpse telling us we are Muslim let them dress him up for burial.
"It was a painful exit. We need people who can help us fight for our brother. They are trying to cover it up. Please tag all everybody that can fight retweet till it gets to the proper authorities because with what we are hearing and seeing.
"They want to sweep it under the rug they are telling is insurance cover him that all we are hearing my brother his a graduate no work that's why he was working with this company they killed him and they are not telling us how it happened."
When called for an update on the incident days after calling out Saba Steel, the Twitter user told Unmask NG that the company was yet to provide an update on what led to her brother's death. Her words; "We still don't know what really happened, the company is not saying anything."
The looming consequence of this incident
It is an open secret that little problems can turnout to be big ones. However, in the case of Saba Steel and its employee, who died as a result of an occupational incident, a big problem like this can turnout to be a bigger problem.
Unmask NG understands that the severity of consequence of this incident varies, but one can't take away the fact that the incident is detrimental to Saba Steel, and the company can no longer be trusted with the safety of its employees, particularly at its premises.
With the Twitter user already raising alarm for justice, lawsuits may be an unfortunate reality for Saba Steel. Even if the company wins the lawsuit, the costs associated with defending the suit can be steep. In this instance, a loss can mean that the company will be ordered to pay thousands or millions of dollars to the employees' family, which can particularly ruin the company's business.
As it is already, this incident is bringing unwanted negative publicity to Saba Steel, and it's likely to damage the company's reputation, which might affect its sales and profits.
About the company
Founded in 2007, the company provides steel structures to industrial sectors such as -Heavy Industries, Cement Plants, Aluminum Smelters, and Storage Depots.