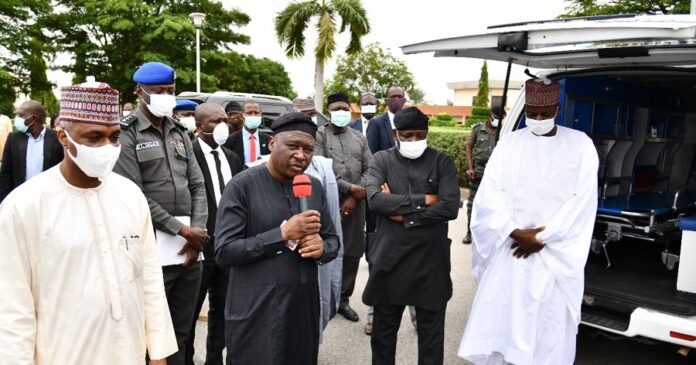 Like many other concerned individual Nigerians and corporate organisations, BUA Cement Plc, through its chairman, Abdul Samad Rabiu, has provided support in the fight against COVID-19, the infectious disease plaguing the whole world. This is not in doubt.
However, the company's public disclosure that it has committed over N7 billion in cash, foodstuff, and medical supplies amongst other things across Nigeria to fight the pandemic raises more questions than answers, with allegations of inflated figures and over-valued contributions trailing the gesture.
According to Aliyu Idi Hong, the Director, government relations of BUA Group, and Yusuf Binji, the Managing Director of BUA Cement, the donations by the cement company were in line with its social obligations everywhere it operates within the shores of the country.
However, contrary to the cement company's alleged COVID-19 donations, informed sources insist that the donations of BUA do not match the figures projected. Some sources who spoke on the condition of anonymity, disclosed that BUA's Rabiu may have played up the figures to portray the company in good light to people, leveraging on the media to propagate his agenda.
It was also gathered that both the United Nations (UN) and Nigeria's Presidential Task Force (PTF) of COVID-19 rejected BUA's donations, due to the fact that his company's activities do not align with the kind of values they both represent. To some, this rejection is an indictment.
"Let him (Rabiu) give a breakdown of the donations he has been claiming to have done. Everything is entirely false, nothing is real. He tried to give the PTF money, but they couldn't accept; neither could the UN. So, if he's man enough, let him come out to explain how his donations were disbursed and managed," a source challenged the BUA boss.
Another source also disclosed that BUA Foundation, a Non-Governmental Organisation (NGO), under which Rabiu has allegedly been making donations to the Nigerian government, is not officially registered, and therefore not recognised as an existing organisation in the country.
"There is nothing like the BUA foundation. The NGO only operates in shadows. If not, how can 'a self-styled' reputable man like Rabiu not have his NGO registered?. Unless it (registration) was done yesterday, BUA Foundation does not exist in the Corporate Affairs Commission (CAC)'s official records." the source stated.
Corroborating the disclosure, an insider, Yusuf Adamu, stated that Rabiu allegedly connived with Governor Abdullahi Ganduje of Kano State, to deceive unsuspecting members of the public with donations. "What has been done with the so-called donations?" she challenged Rabiu and Ganduje to explain.
It is well known that a company's reputation is one of its biggest and most valuable assets. When great things are heard or said about an organisation and its good standing is reported in the media, it prompts more customer inquiries, increased profit margins, healthy and productive relationships with investors and shareholders. On the other hand, a public relations debacle can dent the reputation of any firm and destroy the reputation it has built over the years, which may be near impossible to rebuild. From all indications, BUA may fall headlong into this category if care is not taken.
Among financial circles, experts are of the opinion that the company is on the verge of facing the consequence of poor reputation for various reasons including the one mentioned above, which they said will be reflected on its balance sheet.
Higher business operating costs, poor margins, devalued stock prices, amongst other unforeseen circumstances, according to the experts, are what the company is likely to battle with, which they said will be disappointing to its shareholders and investors.
According to some media reports, BUA donated N1billion to the CACOVID basket fund put together by the organised private sector to support the federal government. It also reportedly bought 20 pickup vans and 4 Ambulances for the Kano State Government, and gave Edo State government N100 million and two Ambulances.
Analysts are wont to ask: If Rabiu donated N7 billion to support the COVID-19 fight, then where did the rest of the money go to? The calculations from the media reports do not match the figure allegedly contributed by Rabiu and his company. He or his company urgently needs give a total breakdown if he wants his claims to stand and his gesture not to be misconstrued.
There is also an allegation that BUA, through a commercial advertisement on the US Cable News Network (CNN), is the second largest producer of cement in Nigeria, after Dangote Cement and before Lafarge Nigeria in terms of volume, just to showcase its productivity. Experts in the cement industry insist that this claim is totally bogus, and have advised the CNN to do a fact-check and thorough investigation on this, since Lafarge produces more cement than BUA.
All these gestures, analysts believe, may have arisen from Rabiu's desperation to shore up the image and reputation of his company after the rejection of his support by the UN and the Nigerian PTF; gestures calculated to buoy the company's profile and lead to an increase in patronage of its products.
This, among other allegations leveled against him raises a cogent question on the real motive behind BUA's over-reported donations and seemingly humane persona. He will do well to clarify his support claims and answer all the nagging questions, if he still wishes to remain relevant in the sphere of voluntary donors and philanthropists in Nigeria.