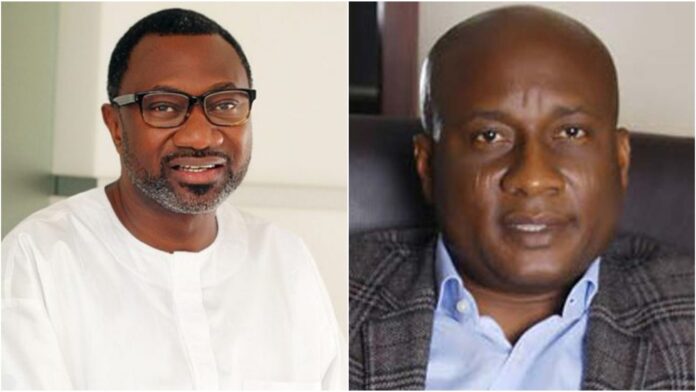 Billionaire businessman Femi Otedola has said he will give the Super Eagles equivalent of $250,000 in naira (N102,895,000) if they win the 2021 Africa Cup of Nations in Cameroon.
Otedola grand gesture was communicated to the team by the Governor of the Central Bank of Nigeria (CBN), Godwin Emefiele.
Otedola monetary promise is coming just a few days after Allen Onyeama, the Chief Executive Officer (CEO) of Air peace, promised to give the team N50 million if they win the tournament.
Aside from Otedola and Onyeama, other bodies and organisations have expressed their appreciation to the team for making the country proud.
The Coalition Against COVID-19 (CACOVID) has promised the Eagles N49,389,600 ($120,000) for the six goals they scored in the group stage of the ongoing continental showpiece. 
CACOVID, a private sector-led platform established to assist the government in battling Coronavirus in the country, commended the team for their performance at the AFCON and promised to reward the squad with the naira equivalent of $20,000 for each goal scored in the group stage..
Emefiele, who represented CACOVID during a visit to the team's camp in Cameroon, said their impressive group stage performance convinced CACOVID to increase the amount for every goal scored to $50,000 in the round of 16.
"I came with a message from the CACOVID. The CACOVID is the coalition of private-sector companies that was set up to fight COVID-19 in Nigeria and they have been happy with the performance of the team," Emefiele said in a video posted by the Eagles media department on Thursday.
What you should know about Super Eagles' performance in AFCON
Super Eagles have been exceptional in the ongoing continental showpiece in Cameroon picking maximum points from their three matches in the group stage.
The Nigerian senior football team's brilliance and pleasing style of play has endeared them to Nigerians with many saying their display is reminiscent of the nation's football team of the the 90s.
Pundits have also tipped the team to go all the way to the final and win the tournament.