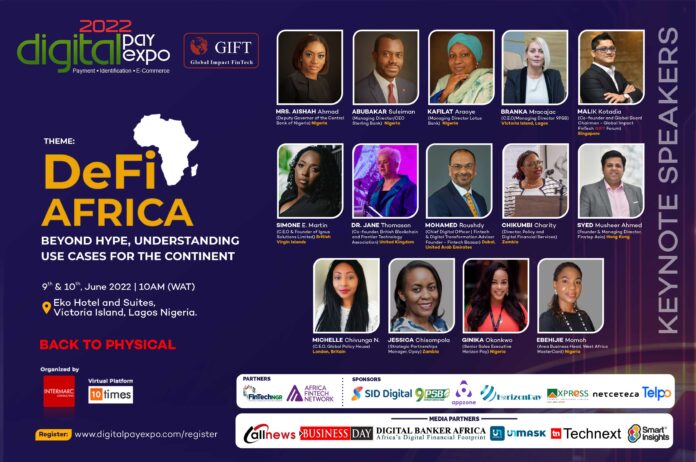 Intermarc Consulting is pleased to announce the 22nd edition of Digital Pay Expo with the theme "DeFi Africa: Beyond Hype, Understanding Use Cases for the Continent", which is scheduled to hold on the 9th – 10th of June 2022 as a physical event at the Eko Hotels, Victoria Island, Lagos, Nigeria. However, the event will also be hosted virtually on our signature 10Times platform to ensure that participants can connect from all over the world, as usual.
Digital Payexpo has grown to become the premier payment industry platform to showcase new innovations and get an understanding of industry trends. Decentralized Finance (DeFi) is the conference focus this year. Beyond the hype of DeFi, we will be exploring uses across Africa. This has become very instructive and apt at this time when Central Banks across the globe are developing and introducing the Central Bank Digital Currency (CBDC) as their response to the growing global popularity of blockchain and cryptocurrency in the market, especially among the youth population, particularly those who are resident in Africa, hence the theme. This conference will examine the potential implications, complexities, and risks associated with the proliferation of consumers using DeFi.
The Global transaction banking industry now sees Decentralized Finance as a potentially significant growth engine and disruptive force. Meanwhile, a large part of African countries has seen interesting use cases on DeFi as a global finance force that will pull down the cumbersome banking processes.
Decentralized Finance applications will bring the advantage of trust, transparency, and easy access for every person in need of banking. These are important characteristics and key factors for financial services that have been lacking on the continent and have therefore slowed down the rate of growth in Africa for decades. Cryptocurrency platforms are the future of Africa. Through them, affordable seamless cross-border transfer of funds will become inexpensive.
Digital PayExpo 2022 is set to promote the interest of stakeholders in the banking and finance sector, particularly those involved in fintech and innovation as change enablers by taking a cursory look at use cases of Decentralized Finance across Africa. This conference and exhibition is therefore designed as a hybrid event but with a focus on the physical gathering, now that the economy is back in full swing. It will be synchronized virtually to allow the greatest impact possible for the mixed audience expected online and onsite.
This 2022 Digital PayExpo conference and exhibition promises to be insightful and informative with respect to the practicality of achieving an enduring Decentralized Finance model in banking and finance across Africa's highly competitive digital environment.
We have assembled brilliant expert keynote speakers and panelists to address different verticals of this theme. The two-day event is therefore bringing you an unparalleled number of DeFi innovators and change-makers to share their stories, knowledge, and insight into Decentralized Finance from the various angles of interest and use cases, including the practical gaps and challenges to avoid in the implementation of DeFi on the Continent. The expected outcome of this conference and exhibition is to help stakeholders take bold steps and decisions in their drive towards implementing DeFi and CBDC as a strategy for future growth across Africa. Attendance for this event is free but subject to registration. Log on to www.digitalpayexpo.com or email [email protected] for details on how to register.