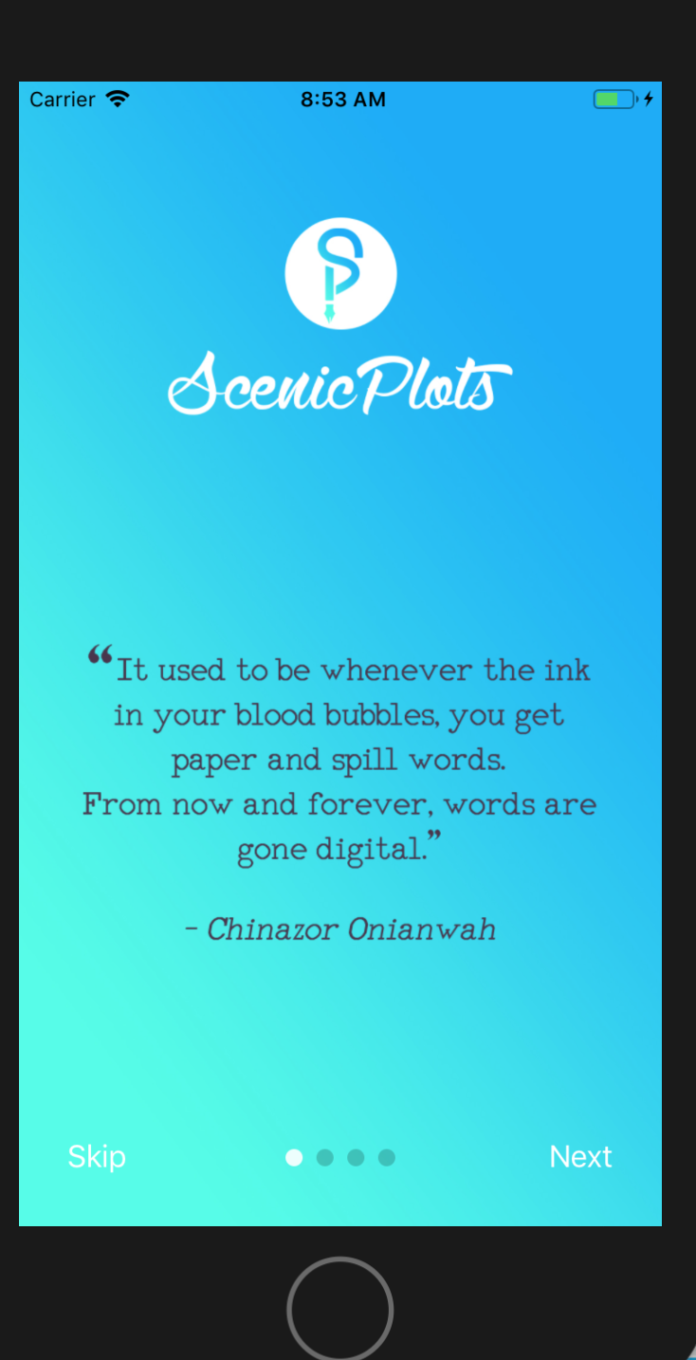 Scenicplots, a social media app for writers, has been created to fill the gap ignored by Facebook, Twitter, and Okadabooks. Scenicplots App enables users to earn money for every short story, including non-fiction posted on the app.
A Facebook-like app, Scenicplots, has been created for individuals who like to post short stories on social media platforms. But while Facebook and Twitter don't reward the majority of its users for their stories, Scenicplots pay its users for every short story posted on the app.
For writers who can't afford publication of their works, with just $1, Scenicplots enable writers to display their content to a broad audience and earn at the same time. Scenicplots pay their users for every short story posted on the app, thereby filling the gaps ignored by Facebook and Twitter.
Scenicplots is for individuals who like to write short fictional stories or turn the real-life event into words. It is a social media app like Facebook and Twitter. However, it offers more than Likes, Share, and Retweet, as it pays individuals for their stories.
It is a platform with intriguing storytelling by various writers. They join their ideas to build short stories into a movie script that can be consumed in five minutes by readers. Scenicplots enables readers to read compelling stories before it is a movie.
How it works: Once a user signs in on Scenicplots, he or she can develop their stories by joining available accounts on the platform. Interested writers join to continue from where the existing story ends and build other scene(s) in 1000 to 5000 words.
The user-writer can join any story – including his/her own – as many times as the user-writer wants. For every tale joined by a user-writer, he gets paid half a dollar. The app monetizes its short stories, serving as a source of income for the user-writer.
Scenicplot was created by Chinazor Onianwah, a US-based tech entrepreneur, to offer social media users value for their content. For years, Facebook and Twitter have been cashing in on their users' materials to grow into tech giants without financially rewarding their users.
Facebook and Twitter only allow users to generate income from third-party advertisers after they garner extensive followership. Scenicplots' users don't have to wait to earn. Neither will Scenicplots users lose their account as influencers experience on Twitter.
According to Scenicplots' founder on what informed his decision to create Scenicplots, Onianwah said, "After I received my 200th letter of rejection from a publisher. He was kind enough to say it was well written, but it would be hard to sell. Then I considered ePubs. I self-published on Amazon as an eBook and on-demand. I still have to advertise to friends and family to buy a copy they will never read. Soon you run out of friends. And you are not alone. You have spent 2-5 years writing a book, now it's published, and you still can't sell it. There has to be a better way, I said to myself.
"For ten years, I thought about all the difficult aspects of writing, to publishing and then marketing. What if I could reverse the model – simplify the process, make the writer/storyteller become the decision-maker. Rather than looking for a publisher to publish his book, they come looking for him. That process that disrupts the traditional model is "SCENICPLOTS"
On what makes Scenicplots different from Facebook and other content-driven apps, he explained that "Scenicplots is a curator of stories that allows agents, publishers, and film producers to find the kind of genres, settings, authors they are looking for without going through volumes of manuscripts.
"Because the stories are in plots, treatments, and summaries. A storyteller uses the platform to showcase various collections of ideas that can develop into a specific story. And they can generate some income while waiting for a big payday. Compared to Facebook, that would be like foraging for chicken nuggets in a dumpster."
Speaking on the monetary value, the Managing Editor, Chiluba Ogoke, said, "Most writers publish on other social media mainly to entertain their audience. ScenicPlots ensures that you earn while doing what you love.
Chiluba further stated that Scenicplots offer writers accessible publication, "A lot of writers spend months and years saving up just to publish and launch a book. But with ScenicPlots, you can post stories for as low as $1.00 in a few minutes.
"There are also great opportunities that will begin to manifest soon. Newbie writers could meet with their favourite celebrities writers on the app and maybe create magical stories together. Also, movie producers will have an endless supply of stories suitable for screenplays, and the lucky writers will be entitled to a certain percentage."
One of the writers on the platform, Diamond Melody, said, "I love writing and getting the opportunity to showcase my creativity to the world in a very high-profile manner is wow."