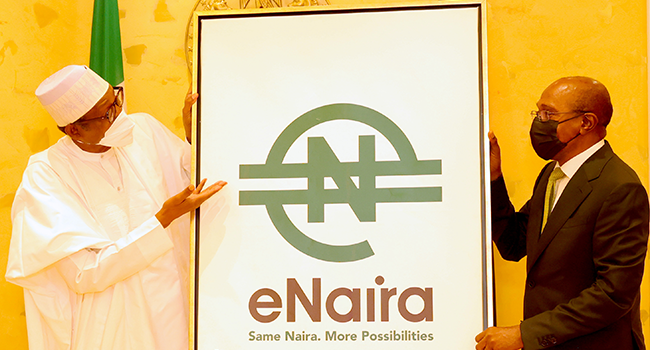 President Muhammadu Buhari has bragged about the launch of eNaira, saying under his watch, Nigeria became the first country in Africa to float a digital currency.
Speaking at the official launch of eNaira in Abuja on Monday, October 25, 2021, the president stated: "We have become the first country in Africa, and one of the first in the world to introduce a Digital Currency to her citizens."
He added that the adoption of the Central Bank Digital Currency (CBDC) and its underlying technology, called blockchain, can increase Nigeria's GDP by $29 billion over the next 10 years.
According to Buhari, the introduction of the eNaira would enable the government to send direct payments to citizens eligible for specific welfare programmes as well as foster cross border trade.
President Buhari said that alongside digital innovations, CBDCs can foster economic growth through better economic activities, increase remittances, improve financial inclusion and make monetary policy more effective.
"Let me note that aside from the global trend to create Digital Currencies, we believe that there are Nigeria-specific benefits that cut across different sectors of and concerns of the economy.
"The use of CBDCs can help move many more people and businesses from the informal into the formal sector, thereby increasing the tax base of the country," he said.