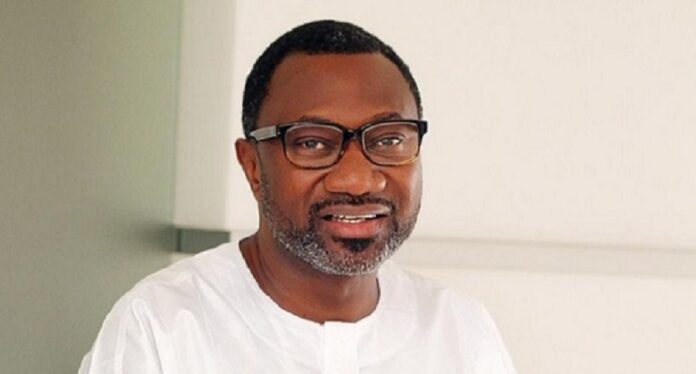 First Bank has reacted to a report published on Unmask NG, alleging that billionaire Femi Otedola may soon be announced as the financial institution's chief, as he's secretly engaging himself in what seemed to be a hostile takeover.
The report, which was culled from Newsrand, has it that Otedola was setting himself up to become the single largest shareholder of First Bank, as now owns a significant number of shares of the financial institution after acquiring a large number of shares through his proxies and investing vehicles.
In a statement addressed to investing public, First Bank made it known that at the moment, it has no idea the highly-revered billionaire is its majority shareholder, as it promised to notify the appropriate agencies and authorities whenever it received any notice of significant shareholding by the shareholders and its registrars.
Read the First Bank's statement seen by Unmask NG below
The attention of FBNH has been drawn to media reports of today, Oct. 22, purporting that a certain individual has acquired a significant shareholding interest in FBN Holdings, making him the majority shareholder in the company.

As a listed company, the shares of FBN Holdings are publicly traded, and the sale and acquisition of shares are expected in the normal course of business.

The company is yet to receive any notification from the individual mentioned in the media report, of such acquisitions.

FBN Holdings Plc will always notify the appropriate agencies and authorities whenever it receives any notice of significant shareholding by the shareholders and the company's registrars.
Should shareholders and stakeholders be worried about Otedola's imminent takeover of First Bank?
Going by the statement from First Bank, it is obvious that the celebrity billionaire is up to something, as it wasn't an outright denial of the widely circulated acquisition by this publication.
However, while Otedola's plans for First Bank had not been made known to the investing public yet, Unmask NG understands that he has the full backing of the Central Bank of Nigeria (CBN) and other regulatory bodies, all thanks to his precedents.
In view of how he successfully turned around Forte Oil and then sold it to its new owners, and his acquisition of Geregu Power Plant during the 2013 privatisation of the power sector, Otedola has a bankable pedigree going for him. And as a result, the news about his takeover of First Bank has influenced the significant increase in the company's share price on Nigerian Exchange Group (NGX).
How First Bank's shares traded so far in 2021
Going by available data on the Nigerian Exchange Group (NGX), First Bank experienced its best performance in Q4 so far this year (2021). This was as investors renewed their interest in the bank, improving its investability while they set off a price bubble this month (October).
Between January and September, First Bank market value only appreciated by 12.5 percent, a development that reflected the dampening mood of the Nigerian bourse triggered by the Central Bank of Nigeria's (CBN) reopening of the OMO market and increased interest to lure investors back.
Throughout the period under review, First Bank's shares were sluggish, as they traded between N7.15 per unit and N7.55 per unit on Tuesday, September 28. But a day after, the financial institution's stock appreciated, and traded N8.05 per unit of share.