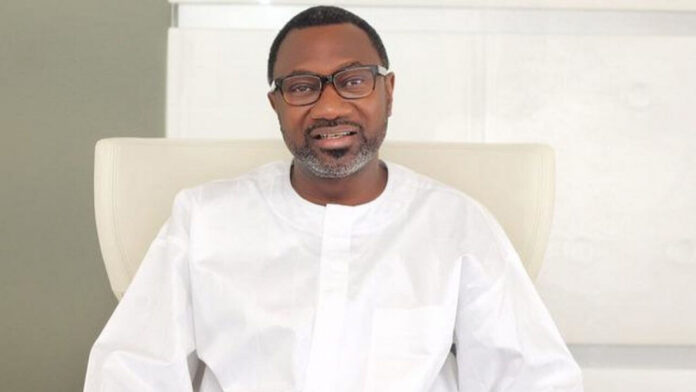 A piece of emerging information has it that billionaire Femi Otedola might soon be announced as the chairman of First Bank, as he's on a shopping spree of the financial institutions' shares.
According to a source who disclosed this development on a condition of anonymity, the energy tycoon is acquiring a lot of shares in recent times.
"Otedola has been buying shares from First Bank lately, and it's quite surprising to see him doing that. In view of the way things are, I think he might soon be announced as the bank's chairman," the source stated.
Newsrand, a publication from which this report was culled, could not verify this claim at the time of filing this report, but considering the recent events in the financial institution, Otedola might be the First Bank's next chairman.
Just recently…
Some short position investors sold their shares, a development that led to stakeholders losing N34.10 billion.
Amongst the stakeholders that recorded losses in their investments, is the former chairman, First Bank, Oba Otudeko, who had a total of 537.9 million shares (5.89 million direct shares and 532.07 million indirect shares).
He lost N511.07 million from his investment in First Bank, which dwindled to N6.32 billion on Monday, October 18, from the N6.83 billion of last week Friday.
In a similar vein, the Group Managing Director, U.K Eke, who accounts for 102.37 million direct shares in First Bank, lost N97.25 million, as his investment plunged to N1.202 billion from N1.300 billion.
First Bank's share price significant appreciation
Going by available data on the Nigerian Exchange Group (NGX), First Bank experienced its best performance in Q4 so far this year (2021). This was as investors renewed their interest in the bank, improving its investability while they set off a price bubble this month (October).
Between January and September, First Bank market value only appreciated by 12.5 percent, a development that reflected the dampening mood of the Nigerian bourse triggered by the Central Bank of Nigeria's (CBN) reopening of the OMO market and increased interest to lure investors back.
Throughout the period under review, First Bank's shares were sluggish, as they traded between N7.15 per unit and N7.55 per unit on Tuesday, September 28. But a day after, the financial institution's stock appreciated, and traded N8.05 per unit of share.