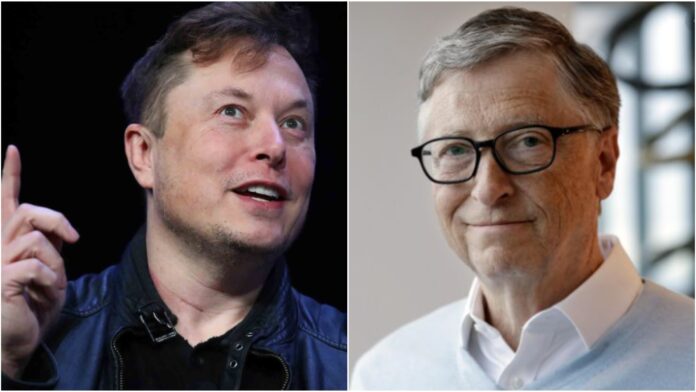 Tesla CEO, Elon Musk has outshined the co-founder of Microsoft, Bill Gates, thereby becoming the world's second-richest man ahead of the latter.
Musk secured second place on the billionaires' list after his net worth jumped to $128 billion. According to Bloomberg Index, Musk overtook Gates after shares in his car firm surged. Although, he (Musk) is behind Amazon's boss, Jeff Bezos who is the richest man in the world with $182 billion net worth.
Below is a list of top ten billionaires on the Bloomberg index
Jeff Bezos -$183 billion,
Elon R Musk -$136 billion
Bill Gates $129billion
Bernard Arnault $105 billion
Mark Zuckerberg $105 billion
Warren Buffett $88.4 billion
Larry Page $82.7 billion
Sergey Brin $80.1 billion
Steve Ballmer $77.4 billion
Mukesh Ambani $74.9 billion
Elon Musk's wealth portfolio
Elon Musk is a billionaire with many businesses across different chains of the global economy. Amongst his multiple businesses are -SpaceX, Tesla, OpenAI, Neuralink, and The Boring Company.
Musk's journey to greatness however started in 1997, when he founded Zip2. After some years, he then proceeded to acquire PayPal. And having secured the PayPal acquisition in 2002, Musk advanced his acquisitions, thereby becoming the founder of SpaceX and Tesla.
Speaking on how he amassed his wealth in an interview with Bloomberg, he said he's addicted to putting his money to work.
"I build sports cars. Use that money to build an affordable car. Use that money to build an even more affordable car. While doing above, I also provide zero-emission electric power generation options," the billionaire was quoted as saying.
As it is, Musk doesn't seem to be approaching peak anytime soon, as he hinted that self-driving Tesla cars will become the next big game-changer in the automaker industry.