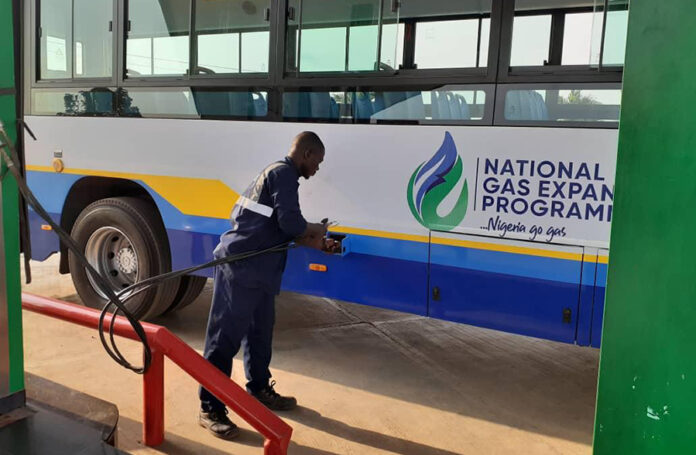 The Federal Government has announced that one million vehicles would be converted to run on autogas by the end of 2021 in order to tackle the cost of transportation in the country.
According to the Group General Manager/Special Assistant on Media to the Minister of State for Petroleum Resources, Garba Deen Muhammad, the conversion would run with the official launch of the National Gas Expansion Programme (NGEP), from Tuesday, December 1, 2020.
Muhammad hinted that the launch would also announce the formal dispensing of autogas – Compressed Natural Gas (CNG), and Liquefied Petroleum Gas (LPG) – products at two Nigerian National Petroleum Corporation (NNPC), retail stations.
While explaining the purpose of the programme, he said that the rollout is the culmination of the resolve of the Buhari-led government to deepen domestic usage of natural gas in several forms.
He added that the programme was in line with the government's agenda to make gas the number one source of cheaper and cleaner energy for Nigerians in both industrial and personal efforts.
He said: "The Federal Government Autogas program will deliver at least one million vehicle conversions by the end of 2021 and herald the clean energy transition for Nigeria and delivery of cheap transportation fuel."
Speaking on the development, the Minister of State for Petroleum Resources, Chief Timipre Sylva revealed that the Federal Government was working towards making the cost for the conversion affordable to all Nigerians.
Sylva stated that the Federal Government was intensifying efforts to provide Nigerians with autogas to reduce the effects of rising costs of Premium Motor Spirit, PMS, also known as petrol.
In the same vein, he stated that while some government official vehicles were already being converted, some cars in the president's fleet would also be converted to run on autogas.
He however urged conversion centers to make vehicles and user safety a primary focus.
What you should know
Recall thatthe federal government disclosed ould start the sion of
To enable Nigerians key into this development, t(DPR) authorisedacross the country
Amongst other things, one of the benefits of converting cars using petrol to gas is that it will literally save most Nigerians from fuel cost. Asides from this, filling an autogas involves a sealed process, which means that it is environmentally beneficial to the health.