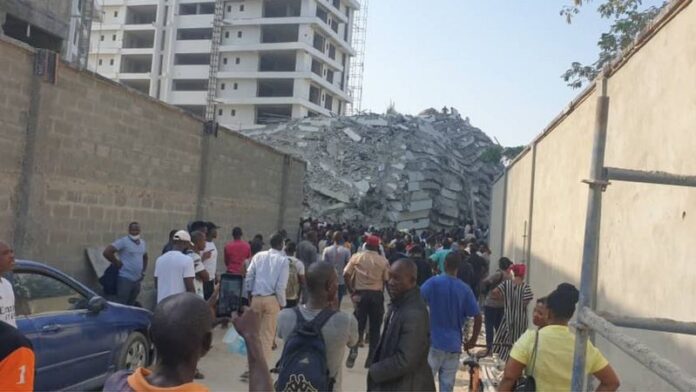 As Ikoyi building collapse continues to make news headlines across the country, the names and ages of the incident's survivors have been released.
It would be recalled that on Monday, November 1, 2021, a 21-storey building situated at Gerrard Road, in the Ikoyi area of Lagos State, collapsed.
While no less than 20 people have already been confirmed dead, several other persons were believed to still be trapped in the rubble, including the Managing Director, Fourscore Heights Limited, Femi Osibona.
Unmask NG understands that Osibona's Fourscore Heights Limited is the company developing the giant structure.
But providing update on the building collapse on Wednesday, November 3, during his second visit to the incident's scene, Governor Babajide Sanwo-Olu of Lagos State, said, so far, there are only nine survivors.
According to the governor, while three of the survivors have been discharged, nine others are still receiving treatment at the Lagos Marina Hospital.
See below the names and ages of the survivors of Ikoyi building collapse
1. Odutan Timileyin, 26-year-old man.
2.  Ahmed Kenleku, a 19-year-old man from Cotonou, Benin Republic.
3.  Sunday Monday, a 21-year-old man who suffered a leg fracture.
4. Adeniran Mayowa, a 37-year-old man who suffered a hip injury.
5. Shola Bade Nurudeen, 33-years old man, who has a pelvic injury.
6.  Waliu Lateef, 32-year-old.
Meanwhile, Sanwo-Olu had suspended Gbolahan Oki, the Lagos State Building Control Agency (LASBCA).
His suspension came on the heels of a statement he made that the agency he headed only approved a 15-storey building for Fourscore Heights, and not the 21-storey structure that later collapsed.
The statement was quickly tackled by Femi Hamzat, the Deputy Governor of Lagos State, who stated that LASBCA under Oki's watch approved the 21-storey building.
In a statement obtained by Unmask NG, Sanwo-Olu disclosed that Oki would have to go on an indefinite suspension, pending the outcome of an ongoing investigation on the Ikoyi building collapse.
"The government will surely find out what went wrong and punish those indicted. The governor, as a first step, has directed that the General Manager of the Lagos State Building Control Agency, Gbolahan Oki, an architect, be suspended from work immediately. The suspension is indefinite," Gbenga Omotosho, the state Commissioner for Information and Strategy, quoted Sanwo-Olu as saying in the statement.