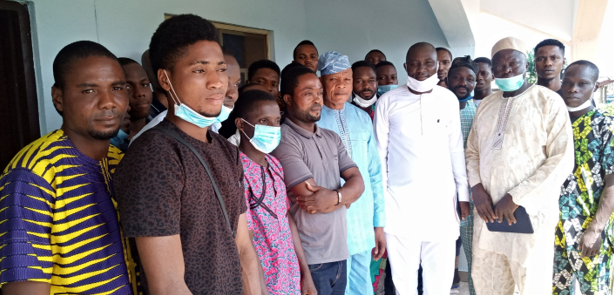 The company, led by Prince Ayo Akanbi, the MD, said, no forward thinking organization would take the safety of her workers for granted because they are the engine room of the organization. This is why INCAFAITH CONSULTS – a division of Incafaith Nigeria Limited has deemed it fit to organize a befitting training to quip her staff on the importance of safety at workplace.
During the training, the facilitators dealt extensively with various topics like Punctuality, Safety at Workplace, The use of PPEs, Hygiene at Workplace, Who am I – A journey of Self Discovery amongst others. Truly organizations do train their staff, but hardly will you find any organization, most especially an outsourcing firm to personally organize a training not to say for factory workers and that's what stands the company out.
A great point to note is that the training was held at the company's training hall, within the company. This is a plus to the organization, as there hasn't been any record of an outsourcing firm that will invest so much into the development of her staff, not to say, factory workers.
Although the hall capacity is for about 50 participants, following the federal government and state government directives of social distancing, we grouped the classes into two sections – Batch A and B; so as to decongest the hall and limit the number of participants to a maximum of 20 per session. In addition, PPE's were provided for the safety of individuals, considering one of the classes focuses on Safety at Workplace, hence the importance of disposable Nose Mask which was made available to everyone present at the registration point before they can gain entry into the hall.
During interview, the MD said "As the trailblazer Human Resource Outsourcing Firm, this feat has challenged neighboring companies and outsourcing associates. We have a standard and we are not going back on the standard we have set for ourselves. As an organization, we believe in the development of our workers; our investment into people brings growth and in turn, gives back to the organization by being the company's ambassador as they represent the company anywhere they go to. More so, because we are a bridge that connects them to our client's companies, their actions and inactions will definitely fall back on us, hence the need to equip them. The training is not without an assessment to test their IQ, because a certificate was issued to all attendees.
We remain the trailblazer in the industry by setting record and improving our standard of service delivery. Invited guest speakers also commended the efforts of our organization, in ensuring that our staff is trained and that we also have a training facility with executive seats that enable attendees to sit comfortably and write without stress.
A renowned author said "Don't wait for things to happen. Make them happen." That is the right word for us at INCAFAITH CONSULTS. The safety of our employee is paramount and that is the reason for the purchase of safety boot which we got for the site workers recently before the commencement of the training. Not just that, but the remittance of monthly payment to NSITF, and an affiliation with a well-equipped hospital for the safety and treatment of all workers. "
He concluded by saying, "the company is more than ready to handle the HR of any company that falls into their category of industry coverage; Financial Institution, Manufacturing, Hospitality, and Construction. This is because the company is fully loaded with skillful administrative staff with a wealth of experience."