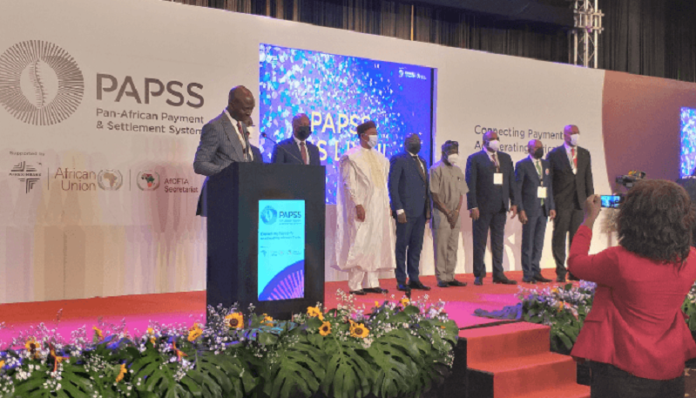 As part of an effort to aid trades among African countries and strengthen the continent's economy, an all-encompassing and highly anticipated payment system anticipated, the Pan-African Payments and Settlement System (PAPSS) has been officially launched.
The payment technology was launched in Accra, Ghana, on Thursday, January 13, in a virtual event themed "Connecting Payments, Accelerating Africa's Trade."
The payment system will deepen commercial activities among African countries by allowing a customer in one African country to pay in their own currency, while a seller in another country receives payment in their own currency.
The rollout of the nascent payment system was sequel to a successful pilot in the West African Monetary Zone (WAMZ), the payment system was launched commercially.
Gambia, Gambia, Ghana, Guinea, Liberia, Nigeria, and Sierra Leone constituent the WAMZ, a West African economic and integration organization.
The PAPSS became imperative in the face of lingering bilateral trade impasse faced by medium and small-scale enterprises.
For years on end, MSMEs in Nigeria and other emerging economies have had to contend with unsustainable and high import and export expenses, as well as inexplicable transaction delays due to ineffective communication from banks, foreign currency availability, and cross-border transaction rail capacity.
However, With PAPSS, Africa has shown to the developing world and emerging economies how these international transaction hiccups can be solved with a commercially viable modern solution.
Participants no longer need to convert local currencies into exchanged currencies thanks to the PAPSS platform's quick payouts. Overnight settlements allow central banks to reduce their international currency holdings.
The technology checks for compliance, legality, and punishments in real-time. PAPSS has the potential to reduce transaction time to seconds, removing a major impediment to intra-African e-commerce, services, and goods trade growth.
Speaking on the development, Prudence Sebahizi, the AfCFTA Secretariat's Chief Technical Advisor, said the new method will allow a consumer or a buyer to pay in their own currency while the vendor receives payment in their own currency.
He pointed out that this is far easier and less expensive than converting the Kenyan shilling to the US dollar and then the US dollar to the Ghanaian cedi, as has previously been the case.
Emmanuel Sesonga, the head of business development at Herbmadz, a Rwandan holdings company that specializes in several industries such as IT and breweries, expresses delight at the groundbreaking technology.
Sesonga said: "It's a good initiative for us who are planning to tap into the continental market by exporting our products.
"We are also planning to open in different African countries and I hope that with these kinds of systems, it eases doing business not only for us at Herbmadz but also others in the business community."
Mike Ogbalu III, Chief Executive Officer of PAPSS says: "The commercial launch marks a significant milestone in connecting African markets seamlessly. It will provide a fresh impetus for businesses to scale more easily across Africa and is likely to save the continent more than $5 billion in transactions costs every year."
Pamela Coke-Hamilton, Executive Director of the International Trade Centre, said: "In these uncertain times, African countries now have a commercially viable tool that can address a critical barrier for MSMEs to trade competitively. ITC is preparing enterprises to benefit from PAPSS, creating new opportunities for growth in cross-border e-commerce and sustainable trade."