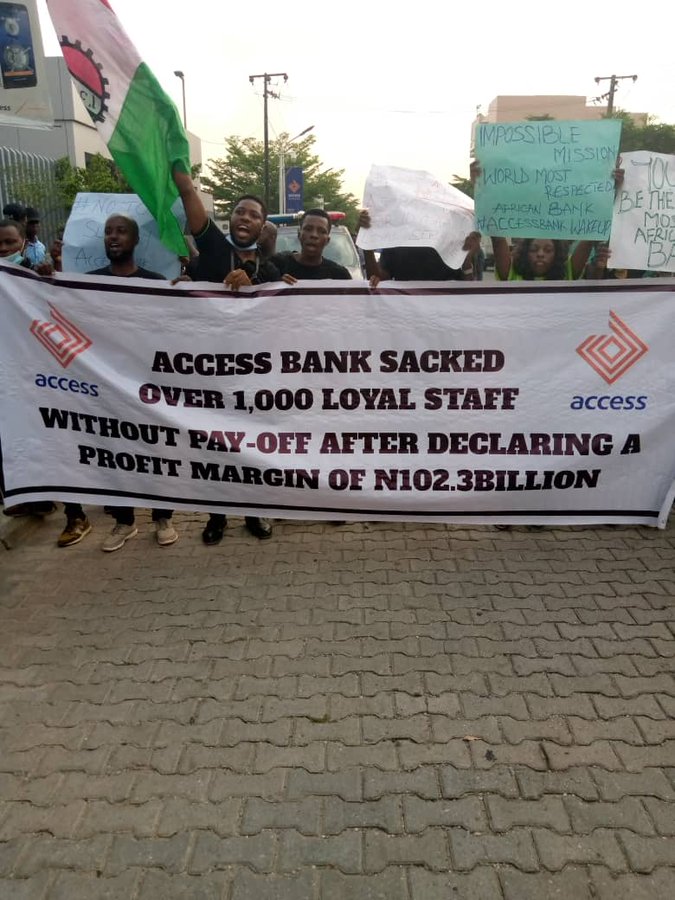 Some staff members of Access Bank Plc, have taken to the streets to protest the non-payment of their salaries and other entitlements the financial institution is owing to them.
Lamenting the ill-treatment the bank melted on him alongside others, a social media user identified on Twitter as @Tobi_gogori, shared series of pictures and videos of the demonstration.
According to the user who's yet to feed response to Unmask NG's interview, Access Bank dismissed them after more than 10 years of service without paying their entitlements.
"We were sacked on May 1st, but that when the Central Bank of Nigeria intervened, the bank said they didn't sack anyone. Suddenly on November 30th, we got another round of termination letters from our employers who claimed we were not sacked," he wrote.
When asked about the unpaid salaries and other entitlements allegation, a top official of Access Bank who doesn't want his name mentioned in this report, said the protesters are not permanent employees of the bank.
According to him, they (the protesters) were employees of an outsourcing company, Integrated Corporate Services, the bank contracted to fill some positions like tellers, tea girls, cleaners and security men.
"They are not direct staff of the bank. They are outsourced staff and it's the responsibility of their direct employers to settle them. That is why they took their protest to Access Bank because they felt the bank was an easy target, and that it would give more attention to their plight," Ripples Nigeria quoted the official as saying.
However, in what seems to be a justification to their disengagements, the official explained that due to COVID-19, Access Bank had to close some branches, hence, direct staff of the company have since been working remotely.
According to him, the remote working style of operating the bank has since been operating on, has denied some category of workers the opportunity to work in the company.
Access Bank's unreasonable defence
While Access Bank may have dismissed the protesting ex-workers due to the economic downturn COVID-19 ushered in, this publication understands that the official who was quoted in this report didn't deny that the workers were dismissed illegally.
Owing salaries and entitlements is not only an abuse of labour, but a serious crime against humanity. For a company that donated about N1 billion to the private sector-led Coalition Against COVID-19 (CACOVID), owing salaries and other entitlements are shameful.
Recall that in the wake of COVID-19 in Nigeria, the Central Bank of Nigeria (CBN) gave a stern warning to all banks, including Access Bank, that they must not sack any bank worker (either permanent or temporary) due to the fall in the economy. And in the case that a bank needs to dismiss its staff, such a bank must seek its approval.
While the bank stated that the dismissed workers weren't directly employed, it, however, remains an unanswered question if Access Bank is bothered about the welfare of all its staff.