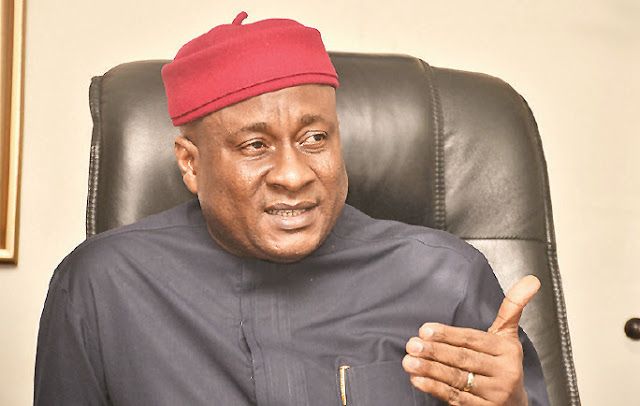 Air Peace CEO Allen Onyema discusses why its customers experience flights cancellation.
For Allen Onyema, the Chief Executive Officer (CEO) of Air Peace, cancellation of flights is what its customers face due to unforeseen circumstances.
In an interview with This Day, where he explained why that happens sometimes, Onyema said Air Peace doesn't joke with the safety of its customers, adding that climate change also influences the airline's decision to cancel scheduled flights.
His words: "Flight cancellations or delays happen for several reasons. I don't think any airline will cancel flights for the sake of canceling flights. And for Air Peace, other airlines may be doing about 20 flights or 25 flights in a day and if they cancel three flights or two flights, nobody will know about it. In Air Peace, we are almost doing 100 flights a day. So, if you cancel four, it will be all over the place. But the thing is that we fly more than any other person. And if we start flying at full capacity, we will be flying over 130 flights daily. So, there are so many reasons for cancellation, like yesterday (Monday, November 8, 2021) on the brand new plane, Embraer E195-E2, we had a bird strike and this is the second time we are having a bird strike on the brand new plane and that grounded the aircraft. Now, one of them is grounded, we have called on the manufacturers and they are sorting it out. Now, waking up during operations and a bird struck and flew into your engine, you can't recover from it. You must have disruptions; some of the disruptions might go into cancellations, not only delays. When it happened yesterday, already people have bought into today's schedule, what are we going to do? We now decided to bring out our Boeing B777 to mop up everywhere in order not to get people stranded. So, the good thing about Air Peace is that we can play with aircraft. If anything goes wrong, we bring in another one.
"So what we did today was to roll out our B777 to take over some flight destinations because the other one had a bird strike. But it comes with some changes. So, these are some of the reasons why you have delays or cancellations. Nobody will cancel a flight for the fun of it.
"And one thing in Air Peace is that we don't joke with safety. If we notice any problem, we ground that plane. Maybe it is something that could be managed elsewhere, but we ground our plane if there is any reason to do so. It is not as if the tech might be so serious, but you don't know when it becomes more serious. We don't joke with such. One thing you can be sure of with us is that when you go with us, you come back with us. Again, you talked about weather, rains, and thunderstorms. If you wake up in the morning and you want to go to Abuja by 6:30 am and the meteorologists now report thunderstorms en-route and thunderstorms on the destination, you have to wait. So, if you waste two hours or so, the whole day must be affected and every other place that the aircraft is programmed to operate to will be affected. But one thing I discovered is that Nigerians are highly critical of their airlines, especially Air Peace. Maybe it is because it is growing into a big airline, but I am aware that the way Nigerians attack their airline and say bitter things about them is not the way they complain about foreign carriers that come into this country. When they are flying with international airlines and you ask them to wait for five hours, they will wait without complaint. But two hours wait with Nigerian airline; they will start fighting the airline staff. Why is it so? There seems to be so much bitterness and antagonism against Air Peace, which is very disturbing and very worrisome.
"Recently I saw an airline, a foreign airline skid off the runway, some five months ago, here in Lagos, nobody published it. And I was happy that nobody published it because writing about it would overheat our system. The aircraft ran into the grass, no publication on it. Nobody saw it on social media. But if Air Peace is moving and a nail enters the tyre, they will use the word crash. In everything about Air Peace, there is sustained negative publicity against the airline."
He, however, stated that Air Peace is scaling up its operations ahead of the fast-approaching yuletide period to avoid flight cancellations, and meet customers' demands.
"A lot of people are scared that there are wouldn't be enough flights. No, will be flights. We are yet to bring out our Christmas schedule, so people should not panic about flights.
"On the 20th of this month, we are receiving two more planes. Before the end of the month, we will have another plane. We are receiving two Airbus A320s on the 20th. Airbus A320 carries about 160 passengers. Two will arrive on the 20th November; then before the end of the month another brand new Embraer E195-E2 will arrive and two of our Boeing B737s will come. So, some of the planes that have gone for C-check will start coming in, so we are yet to roll out our Christmas packages. People should not rush and be in a panic, there are enough flights.
"Air Peace has enough flights to go around for the Christmas, December schedules and we are yet to roll them out. And we are going to roll out the Christmas schedule soon. People will get flights so they should not panic," the airline boss added.