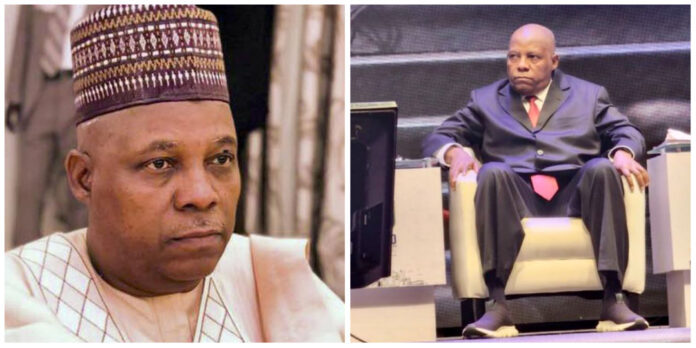 Kashim Shettima, the running mate of Bola Tinubu, the presidential aspirant of the All Progressives Congress (APC), has been a subject of ridicule on social media, over his outfit at the Nigerian Bar Association (NBA).
Shettima, who rocked a black suit alongside a red tie, and white shirt, to the NBA's AGM, suffered ba acklash from Nigerians, who mocked him for his outfit.
@renoomokri wrote: "This is Tinubu's running mate at the NBA Conference today. Look at his feet. Who in his right mind wears a suit and tie, and then puts on a pair of gym shoes to a conference? If Shettima does not know how to dress himself, how can he address Nigeria's challenges?"
@VictorIsrael_ wrote: "Shettima dressing like something that's running away from Boko haram. What's this? Tinubu you do this one o."
@Oyinkitana wrote: "This man right there is the evil genius in Tinubu/Shettima's camp. He was the one who hired those fake Bishop from car park, plumber store etc and gave them cloth to dress up as Bishop. I believe he is the one who dressed up Shettima in this pic."
@itzz_blitz1 wrote: "Someone said shettima must have changed his clothes in a car booth just like the fake bishops did. Fake shettima."
Meanwhile, Shettima, during his speech at the event, stated that should Tinubu be elected, his government would replicate the "wonders" in Borno and Lagos states.
He as well assured that Tinubu as Nigerian President would hand over the management of federal universities to the state government, and private sector would be more efficient under his watch.
His words: "Nigerians have the capability to see through the worn-out rhetoric and sophistry of pretentious politicians. Nigerians should follow the man wey know the road. From day one, we will hit the ground running. We'll promptly address the issue of the economy, ecology, and security.
"And we have the antecedents. I built some of the best schools in Nigeria. Go to Borno and see wonders; you will never believe that it is a state in a state of war.
"So, we are going to replicate our achievements in Lagos, in Borno and some of the frontline states so that our nation will be a better place. The fundamental issue is pure leadership."