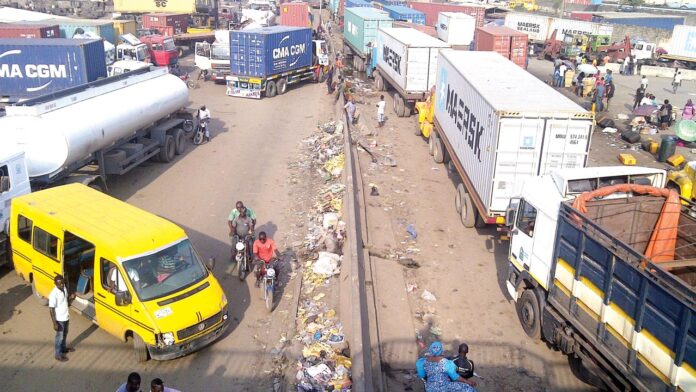 There seems to be trouble for business owners in Apapa area of Lagos State, as presidential taskforce operatives deployed to the area to manage the traffic situation has been withdrawn.
With the new development, the traffic management in the area, according to a report, has now been handed over to Lagos State Government.
Unmask NG learnt that the decision to hand over the enforcement law and order to the state government was taken at a meeting with representatives of National Port Authority (NPA), Federal Road Safety Corps (FRSC), Vice President Yemi Osinbajo, and other stakeholders.
However, as the presidential taskforce operatives have been withdrawn from Apapa, there are concerns from business owners and residents in the area that gridlock will soon return, and will disrupt their business flows.
Speaking on this development, one Seun Adeoye said: "We are afraid the situation in Apapa may get worse with this decision. This is a problem that the military couldn't solve. Now businesses are returning to the axis due to the normalcy returned by the presidential taskforce;
"Before the advent of the Osinbajo-led presidential taskforce, corruption had taken over the axis. But the taskforce teams were able to deal with its strategy put in place. I don't think LASTMA is prepared for this onerous task."
Recall that the Presidential Taskforce was inaugurated by President Muhammadu Buhari, and was headed by Osinbajo.
Apapa's romance with gridlock
Apapa is an area in Lagos that is characterised with so much traffic, such that people would rather walk than drive. The constant standstills have been as a result of vehicles, trucks and tankers that often block every part of the express road.
Wondering why the traffic has become unresolved? Look no further, as Stears Business writes that the presence of tank farms for oil storage in the Apapa axis, is a major contributing factor to the unrelenting traffic in the area. The tank farms attract thousands of trucks and tanker drivers who lift petroleum products to supply to Nigerians. These tankers also do not have parking spaces so they take up all the space on the road instead, causing traffic.
This lingering gridlock however threatens businesses located in the area.