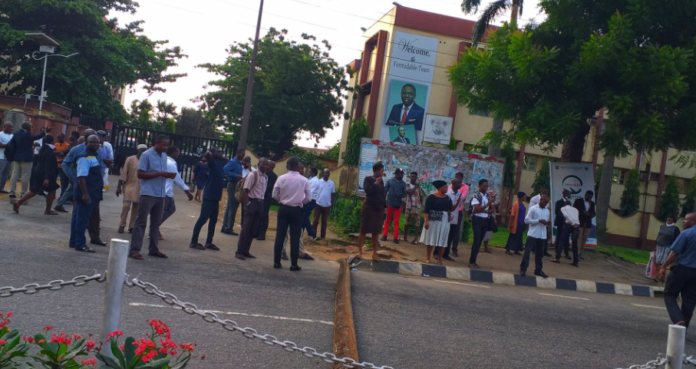 Workers were left with no choice but to return to their various homes today (Monday, October 19, 2020). This was as #EndSARS protesters in thousands blocked major roads in Lagos. 
Unmask NG observed those who were driving to work were stuck in traffic, as others who commutes to their workplaces were stranded and made to return home.
According to an eye witness, the protesters parked their vehicles on the roads, restricting the movement of workers and commuters. "You need to see as people were made to walk long distances because vehicles were not allowed to move. We pleaded with them to allow us to pass, they refused us from that even despite telling them that we subscribe to their agitations. I like what the protesters are doing, and I think the energy should keep burning," she said.
Similar, a commuter who identified himself as Kelvin Samson told Unmask NG that she was left with no choice than to call him employer for permission to work remotely. "I had to call my boss and inform him of the situation. Surprisingly, to me, he told me he couldn't make it to the office as well due to similar experience," Samson said.
Meanwhile, Governor Babajide Sanwo-Olu of Lagos had appealed to the #EndSARS protesters to vacate the roads, as his administration has shown commitment in addressing the issues raised so far.
He made the appeal while swearing-in members of the Judicial Panel of Inquiry and Restitution at the State House in Marina.
His words: "We have shown unprecedented commitment to the complete overhaul of the Nigeria Police. The inauguration of this Judicial Panel of Inquiry is only the first step in a long line of reformative actions that will lead to a thorough revamp and reorientation of the Nigeria Police. I believe that some of the actions we have taken should, to a large extent, show our sincerity and willingness to address all your concerns.
"Let me reiterate that I am on the side of the young people out there. I understand your pain and I know your concerns are genuine and legitimate. While we are able to immediately acquiesce to some of your demands, some others will require time. We ask you to bear with us as we dutifully work on your demands.
"I will, therefore, like to renew my appeal to you to suspend the protests and create an atmosphere for the resolution of all pending demands. I encourage everyone brutalised by the disbanded SARS, including the families of those who died, to present their case before this tribunal."