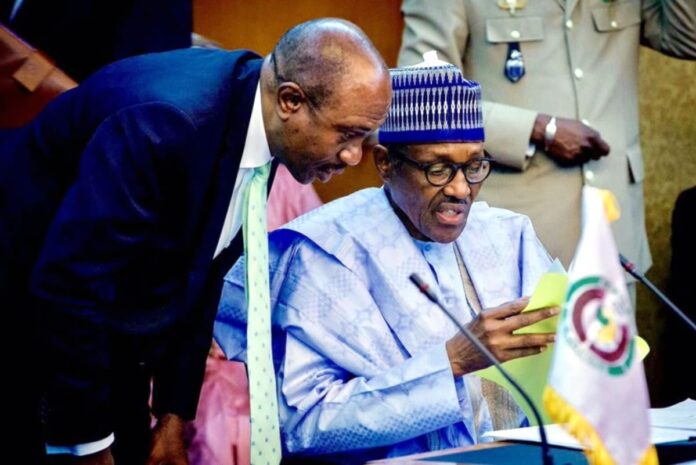 Godwin Emefiele, the governor of the Central Bank of Nigeria (CBN) might have indicted President Muhammadu Buhari when he stated that medical tourism put a huge strain on the country's foreign reserves.
Speaking at the launch of Duchess International Hospital, a newly built 100-suit health facility located in Ikeja, Lagos, the CBN chief made this known as he called on the private sector to invest in medical facilities to improve access to healthcare in the country.
Unmask NG understands that Buhari, who came into power in 2015 after several failed attempts, is known as the first Nigerian UK-based President due to his frequent medical trips.
Sharing his sentiment on such trips, Emefiele stated:
"Medical tourism puts a huge strain on our foreign reserves, and more importantly, for every $1bn allocated to medical treatment abroad, there is less than $1bn that could be available to other critical sectors of our economy.

"As part of this effort, the CBN and select private sector stakeholders supported COVID-19 intervention initiatives through CACOVID."
Revealing how Nigeria's economic recovery could be accelerated from the deadly COVID-19 pandemic that ravaged major sectors, including manufacturing, Emefiele said the monetary policy also recognised the medical sector. Hence, the apex bank has been committed to improving it.
"When we started COVID-19 intervention initiatives, the CBN set aside N100bn to support the healthcare sector, but upon the rise in demand, we have disbursed N107.7bn, supporting 114 healthcare projects which include medical diagnostics, pharmaceuticals, dental services, eye clinics both private and public hospital – just to mention a few," he said.
Emefiele said the CBN had earmarked N100 billion to support the healthcare sector but the monetary policy committee said it should move it further up to N200 billion.
The timeline of Buhari's medical trips to the UK
The Nigerian leader, who coasted to a historic victory in 2015, took his first vacation only eight months after coming to office. He spent six days in London between February 5 and 10 in 2016. Premium Times writes.
His second medical trip came on June 6, 2016. He travelled for 10 days to England, seeking further treatment for an ear infection. The president extended his trip by three days before coming back on June 19, 2016.
By January 19, 2017, Buhari wrote to the Nigerian Senate, one he had a frosty relationship with at the time, disclosing his intention to travel abroad on a 10-day vacation and that he would hand over to Vice President Yemi Osinbajo.
Although the letter said he would commence the vacation on January 23, 2017, Buhari departed Nigeria on the same day he wrote the lawmakers.
On March 10 of that year, exactly 50 days after his departure, Buhari returned but was not able to resume work immediately.
Less than two months after, the president embarked on another trip to London for another medical checkup. Although his aides would not confirm what he was treated for, they urged Nigerians to pray for him.
Buhari returned after 104 days, amidst misinformation about the true state of his health.
A year after his longest trip yet, Buhari travelled to London in May 2018 for a "four-day medical review."
Towards the end of March, this year, the president flew to London to take "a short rest" – one that lasted for 15 days and which the presidency had earlier described as "routine medical check-up."
While in the UK in April, resident doctors in Nigeria, commenced an indefinite strike due to the nonpayment of some allowances.