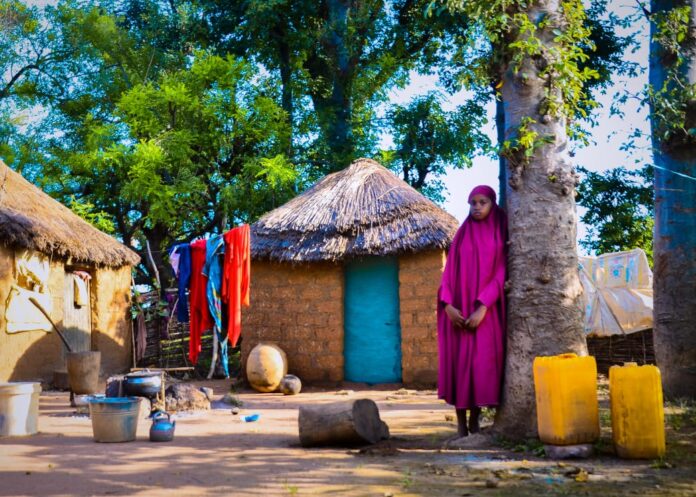 Written by Anibe Idajili
Since their wedding two years ago, 19-year-old Aisha, who lives in Farin Shinge in Niger State, has been subjected to abuse at the hands of her husband, Musa. However, her spouse is not the only one who abuses her; her in-laws do as well.
According to the World Health Organization, Aisha is one of the 30% of women worldwide who have suffered violence of any kind. The vast majority of this violence against women is intimate partner abuse.
In Nigeria, one in four women report having ever been abused by an intimate partner.
Abuse by in-laws
In northern Nigeria, especially among Muslims, most marriages are arranged by families. A marriage is, therefore, not just between two people but also between two families. As a result, women are expected to put up with abuse out of concern for the reputation of both families.
In essence, the man's family has the power to expel his wife whenever they see fit.
"Yes, I also get beaten up by my mother-in-law. One time, when the food I cooked was overly salty, she kicked and punched me while holding my hair and twisting my hand backwards. When she beats me up, Musa never says anything, Aisha recalled as tears welled up in her eyes."
"Normally I wouldn't respond, but one day I was so furious that I did. My spouse severely beat me speaking back at his other. He also kept calling me names and using foul language. My sister-in-law just sat and watched.
Aisha further lamented that her husband never accepts her account of what transpires between his family and her.
"He mostly listens to his mother and would do as she tells him. That is how my marriage has been."
Strict cultural and patriarchal norms
Sadly, there are instances where abused women are coerced by their relatives to stay with their abusers. Aisha's parents always made her make up, go back to her husband and in-laws' house, and stay married.
Women are under pressure to reconcile with abusive husbands as a result of the stigma attached to divorce and the societal belief that the husband is the only source of security. The only option that these cultural pressures, which come from all directions, give abused women is usually to force themselves to reconcile with abusive husbands.
"Even if I go to my parents, they would tell me that a woman only earns respect when she stays in her husband's home and not her parents'. Wherever my husband is, I must be. It is where I rightfully belong," Aisha laments.
Her parents had her get married even though she wanted to finish her schooling. As soon as she finished high school, she was married off.
"I'm even fortunate. Some of my friends never had the opportunity to learn as much as I have. At the age of 14 or 15, they were married."
For the sake of the children
In some cases, the children's welfare was a motivating factor in the compulsion to make amends with an abusive husband. Some women are compelled to make amends with their abusers out of a desire to protect their children. Women have given in to coercion in various instances because of this.
Aisha described how she was informed, for instance, that if she left, their daughter would be left without a home and a father figure because only her husband could do that.
"What will you do on your own? What other options exist going forward? Her mother had questioned, "Can you give your daughter a home, or fatherly love?"
Regrettably, some children from these kinds of homes experience the same levels of abuse, neglect, and are used as pawns by their parents. In many situations, the children are used as tools to threaten and harass themothers.
The fallouts of abuse
Aisha revealed that one of her friends often has suicidal thoughts related to physical abuse she endures at the hands of her in-laws.
"She told me that she would kill herself. Her in-laws beat her and no one is there to stop them. So, she thinks it's better to die than to bear all these," Aisha revealed.
For women like Aisha and her friend, the stigmatization of accessing the legal system in Nigeria, the long tedious process of court orders, and an utter lack of financial means, leaves abused women in helpless situations.
Overwhelmed by her situation's hopelessness, Aisha detests her family for their complicity in her plight.
The fallouts of abuse
Aisha revealed that one of her friends was suicidal on occasion as a result of the physical abuse from her in-laws subject.
"She told me she was going to kill herself. Nobody intervened when her in-laws abused her," Aisha explained.
Women who have experienced abuse, like Aisha and her companion, find themselves in hopeless positions as a result of the shame attached to using the Nigerian legal system, the drawn-out and lengthy procedure of obtaining court orders, and a complete lack of financial resources.
Aisha despises her parents and husband for being complicit in her predicament and is frustrated by the futility of her situation.
She is, unfortunately, not alone in not knowing that the Matrimonial Causes Act specifically specifies the refusal to enter into a forced marriage as a ground for a null marriage.
What is the way forward for abused women?
For women not to be humiliated, ashamed, or blamed for reporting abuse, a holistic strategy must be employed.
Thankfully, community-based non-profit organizations like Youths in Justice Health and Sustainable Social Inclusion (YIJHSSI) in Niger State regularly hold community sensitization programs targeted at healthcare workers and government officials on how to respond to domestic abuse.
However, as stated by Shedrack Muazu, the Team Lead of YIJHSSI, "similar capacity-building activities need to be duplicated at a much bigger scale across Niger State and Nigeria. For abuse victims to receive assistance, social workers must take part in spreading awareness about domestic violence in the community AND engage in lobbying at the policy level for women who are left behind by their spouses."
Healthcare providers, in the opinion of Joana Mathew, a Kontagora-based medical professional, should do more to assist abuse victims who are courageous enough to seek medical help.
"Women, particularly young brides, need to be sensitized on how to approach institutions like police and courts that can effectively address violence against women," Mathew added.