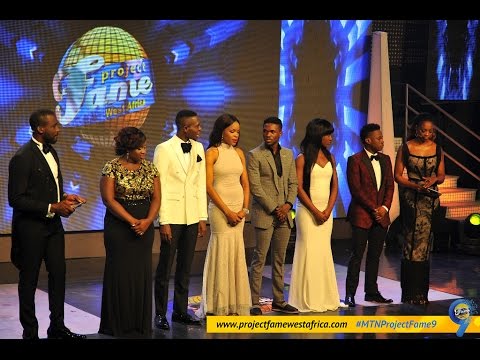 Star Quest, which debuted in 2002 was one of the pioneering music talent shows that graced television screens of Nigerians. It was sponsored by Nigerian Breweries Limited, makers of Star Larger Beer and one of the greatest spenders on entertainment in the country.
Launched with the primary aim of producing the biggest music brand in the country, Star Quest was officially put to rest in 2014 after 12 years. The show unveiled music stars like Kcee, Asa, Klint D'Drunk, and a few others.
Following how Star Quest attracted audiences of diverse culture and backgrounds across the country, Project Fame broke the monopoly.
This show, which was sponsored by telecoms giant, MTN was filmed in Lagos, Nigeria even though it featured contestants from Ghana, Liberia, Nigeria and Sierra Leone and aired in the West African Sub-region.
After running for nine seasons, the show held its last edition in 2016; spearheading the career of music superstars like Niniola, Iyanya, and Chidinma.
The Peak Talent Show hit the screens in 2009. An initiative of Peak, the show was responsible for the discovery of Yemi Alade and Kida Kudz.
After a few seasons, the Peak Talent Show was replaced by Nigeria's Got Talent, which only lasted for two seasons following its launching on African Independent Television (AIT) and Nigeria Television Authority (NTA), in 2012.
In 2016, The Voice Nigeria, the franchise of American singing competition, The Voice, premiered. The show received positive reviews for maintaining the same format and production quality of the original franchise. It has unfortunately not returned since its second season, which aired in 2017.
Superstars Brewed from Reality TV shows
In the past years, talent shows were one of the most common ways for hitherto ordinary singers to become household stars. Even though shows like Project Fame and Nigerian Idol have gone into extinction; they created and expanded opportunities for singers to follow their dreams. Some of these include:
The 31-year-old Kogi State-born singer, who was second runner-up at the maiden season of Project Fame, West Africa. Under his belt, he has several hit songs and national/international collaborations. His most famous songs include –Rich and Famous, Sisi, and I Love You.
Iyanya
The Kukere master won the 2008 MTN Project Fame reality show. Since then, he has worked so hard to stay relevant in the music industry. After the show, he went from the R&B lover singer to a serial club-banging-hit performer. At a point in his career, he is one of the hottest and most sought-after musicians in the country.
Chidinma
This petite music star also participated in the Project Fame. She was loved by all during the competition and after she won, she made several hit songs and numerous collaborations.
Timi Dakolo
The 40-year-old King of soul music, rose to national fame after winning the inaugural season of Idols West Africa in 2007. Prior to that, Dakolo had won a local talent hunt contest G.E FACTO in Port Harcourt; and had been singing in a choir since he was 12. Just like Darey, Timi's music is for mature minds and he does major presidential shows across the nation and beyond.
Darey Art Alade
He is probably the first Nigerian celebrity to rise to fame on the back of a reality TV show. He participated in the 2004 edition of Project Fame Academy and emerged third in the contest. The award-winning musician and songwriter is the son of iconic Nigerian entertainer, Art Alade.
So, What Happened?
One would then wonder why these shows no longer exist in spite of their successful runs.
Music journalist, Omotolani Alake of Pulse NG, told eelive.ng during the week that while some of the music talent shows have stopped to air, others are no longer as big as they were because of the failed career of participants. He further said there is a decline in the relevance of the music reality TV show, explaining that unlike before, most of the artistes who have risen to stardom didn't participate in any show. "One cannot outrightly say the talent shows we've had have faded away. We can say they are not as big as they used to be due to the transitioning of the audience's interest," he stated.
Continuing, Alake explained that "talent shows are where everybody sees all the amazing talents in Nigeria. And then telecommunication companies started pulling behind them because it guarantees them visibility and profits. Which is why it grew in the first place. Right now, our generation transitioned from watching TV to not watching it anymore. We prefer to be on the internet, and even when we are on the internet, it can't retain our attention."
While saying that it would be unfair to suggest that musical reality shows have faded, given the number of music reality TV shows that have sprung up in recent years, Entertainment News Editor with The Nation Newspaper, Gbenga Bada expressed the opinion that the diminished quality of such shows can be attributed to a variety of reasons.
Bada told eelive.ng that: "If you say quality music reality shows have faded away, I will partly agree. And some of the reasons we don't have quality music reality TV shows include sponsorship and loss of focus. When the tap is running, the funds are available to run the show and everything is going smoothly in running a quality music reality TV show. But once sponsors change focus and decide to focus on another thing, the tap stops running and the show starts having hiccups.
"But it's worthy to note that one of the longest running music reality TV shows was Project Fame West Africa, bankrolled by MTN and produced by Ultima Studios. It ran for ten years and produced several winners like Iyanya, Chidinma and Praiz, who didn't win but went on to become a wonderful music star.
Former Consumer Segments Manager of MTN Nigeria, Kelvin Orifa explained that a change in the priorities of sponsors may account for the termination of these shows. In an interview with eelive.ng, Orifa said:
"I will not like to use the word failure but sustainability. And it bothers on Return on Objectives (ROO) and Return on Investments (ROI). The inability to sustain the ROO for the brands and return on investments for the property owner and talents unable to optimise the opportunities post the shows, account for some of the reasons why they don't air anymore."ALSO READ COVID-19: Celebrity Survivors Share Experiences and Messages of Hope
Orifa who worked on Project Fame, explained further that "trends show that consumer behaviour is also very fluid. So they can get bored of routine or the predictable; especially where the organisers are not able to infuse new creative spices into the different seasons to sustain excitement, engagement and endearment. For the property right owners, they want to make money. To make money, they depend on corporate brand sponsorships with the same/old selling points of advert inventories and consumer engagement/activation."
Have music talent shows lost their relevance?
Before now, it was easy for artistes who have little or no resources to get famous from reality shows but social media has become another veritable platform. So have talent shows lost their relevance? Stakeholders share different sentiments regarding the relevance of the shows on talents across the country.
Bada thinks music talent shows are still attractive. According to him, the Nigerians are hugely talented so people are looking for opportunities and platforms to showcase their art. He explained further: "A quality music reality TV show stages a comeback or a new one finds its way into the city, it will still make waves. MTN Y'ello held its first season in 2019 after MTN Project Fame West Africa culminated in the 10th season and the voting was huge.
"Despite the pandemic and current situation, Nigerians, music lovers; and fans still went out to vote and crown a king, Dotti. So, I don't subscribe to the notion that music reality TV shows have lost their relevance. I think some new reality shows coming up don't understand what it takes to stage a reality show let alone a music reality show. Hence, the quackery in the industry which forms the basis of loss of momentum in holding music reality TV shows."
Unlike Bada, Alake opined that music reality TV shows have lost their relevance even though they can still find space with the right strategies.
"The ones that have stopped airing can still make comebacks. They can only do that with a different format, I mean an approach different from what they were popular for. In my opinion, I think they have to review their approaches and consider applying what will be more appealing to members of the public," he stated.
One of these considerations, in the opinion of Alake; is paying attention to the internet and research to be able to thrive in their talent shows. His words: "They need to do a sample survey with Genzee, because over 50% of Nigerians are under 19. They need to have a conversation with Genzee to know their preferences. And the kind of contents they would like to consume. It's not just a Nigerian thing. American Idol is no longer what it used to be, the same thing for x-factor in the UK."
On his part, Onifa advised organisers of talent shows to review their objectives. His words: "Until all stakeholders have a review of the indicators driving their objectives, the trend of instability may continue. To some brands, it is even a me-too project and not that it is within a larger business framework. Besides, property owners/brands need to develop more home grown platforms that sit within our cultural nuances."
Bada expressed optimism that "with good funding, unflinching support and focus, music reality TV shows can stage amazing comebacks."
This article was written by Damilare Famuyiwa