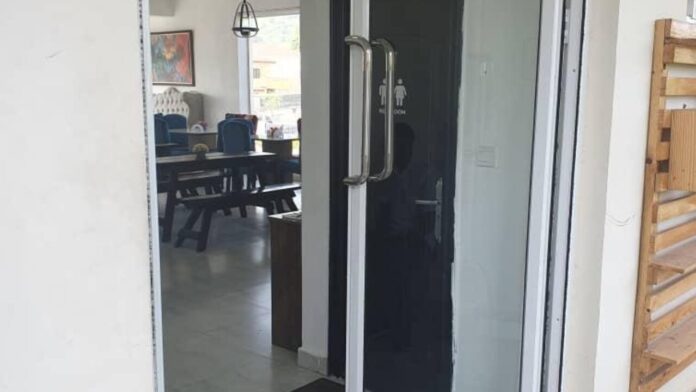 Federal Capital Territory Administration (FCTA) has disclosed why L&N restaurant was shut down in Abuja. This follows a claim by the founder of the restaurant over the alleged closure of the restaurant.
It all began when the founder of L&N restaurant, Layla Othman accused AMAC, of closing her restaurant while her guests were still inside.
According to Othman, AMAC demanded that she provide a "Food handlers form". While she tried explaining to them that it wasn't at the branch the officials visited, but at her Restaurant's main branch. They immediately demanded for a sum of N250,000 in order not to have her restaurant shut.
Without giving her time to provide papers which they wanted, the officials went ahead to lock her restaurant while customers were in.
Meanwhile, while admitting to the shutting down of the restaurant, FCTA maintained thata court summons was granted against Othman and other business operators on September 4, 2020, but the court order was ignored, hence the visit to her restaurant.
FCTA said: "One Layla Othman had in a viral video accused FCTA & @AmacLg officials of illegally sealing up her L&N restaurant in Abuja. She had alleged that the officials locked her customers inside one of her outlets in Gwarinpa.
"The FCT Administration stepped in to investigate and resolve the matter. Findings revealed that the restaurant was sealed by court officials after the owner flouted a court order."
Speaking on the development, the Head of Environmental and Occupational Health division of the FCTA, Obinatu Remigius, said the action followed the failure of the management of the restaurant to prove that their staff have conducted the food handlers test as required by law.
"He said: "Following a September 4 court summons, the business operators were directed to appear before an Abuja magistrate's court after being accused of acting contrary to the food stuff and regulated premises bye-law.
"The summons followed an earlier letter from FCTA health division, notifying the restaurant of the provision of the law which stipulates that all food handlers in the establishment should be screened before commencement and subsequently every six months.
He explained that the court was forced to seal the restaurant after the staff ignored the health officials. The people that went for the sealing were court officials, noting that AMAC & FCTA public health staff were there only to observe & provide information if required.
He further stated that the N250,000 fine was imposed by the court for the violations, adding that the money is to be paid to the court and not FCTA or AMAC.
However, at the time of the publication, the CEO of the restaurant has in another video, apologized to FCTA, AMAC & the general public over her earlier video in which she accused the officials of illegally sealing up her restaurant.