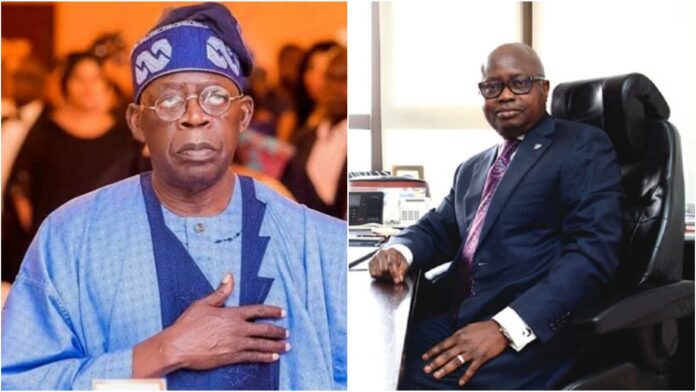 Ademola Adebise, the Managing Director (MD) of Wema Bank, has been accused of laundering money for former Lagos governor, Bola Tinubu.
Unmaskng.com recalls that on Monday, January 10, 2022, Tinubu embarked on a visit to Aso Villa, Abuja, where he met with President Muhammadu Buhari to disclose his interest to contest the highly-anticipated 2023 presidential race.
However, in a petition addressed to the Central Bank of Nigeria (CBN), anti-corruption organisation Transparency Nigeria Group (TNG) sought the probing of Wema Bank and its MD, as it stated that the financial institution and its leadership have been engaging in laundering money for the chieftain of the ruling-All Progressives Congress (APC).
Aside from laundering money for Tinubu, the group also maintained that Adebise, who was a Programmer/Systems analyst before debuting his banking career in Stanbic IBTC (formerly Chartered Bank), has been using Wema Bank as the conduit pipe of siphoning public funds for political officeholders.
"Adebise failed in his fiduciary duties and allowed a powerful politician to use Wema Bank as a clearinghouse for laundered funds," the petition quoted Dahiru Mohammed, the Communications Director of TNG, as saying.
What you should know
Money laundering is a global crime that is common among public office holders in Nigeria.
It is, however, pertinent to understand that money laundering, which is the practice of making money that was gained through criminal means, such as siphoning public funds, looks as if it came from legitimate business activities, imposes significant costs on the economy.
Amongst other unfavourable consequences it has on nations, money laundering has the potency of damaging the effective operations of national economies and promoting poorer economic policies. As a result, financial markets slowly become corrupted and the public's confidence in the international financial system is eroded.