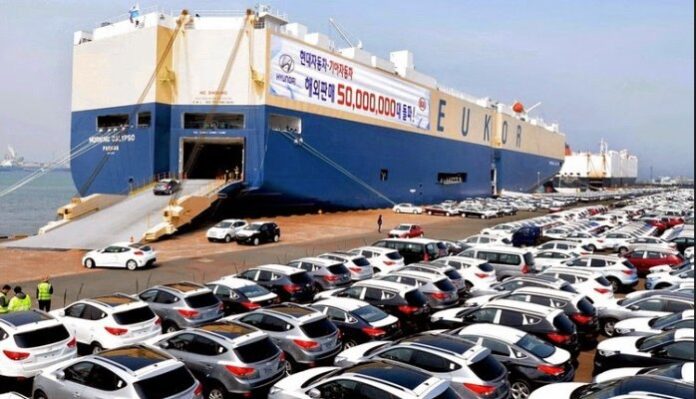 It's no longer news that the Federal Government has revisited its decision by slashing the levy to be paid on imported cars by 5%. This means that Nigerians can now pay their import duties with ease.
While speaking on the development,the Minister of Finance, Budget, and National Planning, Zainab Ahmed said that the reduction in import duties and levies is aimed at reducing the cost of transportation.
She said: "The reason for us is to reduce the cost of transportation which is a major driver of inflation especially food production."
Recall that the Federal Government imposed a 35% import levy on cars and 35% duty making importers pay a total of 70% of the cost of a new car as levy and duty.
Without thinking about the pockets of citizens, the government went ahead to place a costly levy on vehicles thereby compelling people to buy cars in Nigeria.
This policy however heightened the rate of smuggling and discouraged importers as they had diverted their importations to neighboring countries.
However, with the new policy in place, it is pertinent to note that the bill shared by the presidency, states that the import duty of tractors and motor vehicles for the transportation of goods has been slashed from 35% to 10%.
Once the draft Bill of the 2020 Finance Bill is approved by the Federal Executive Council (FEC), it will then become law after it is passed by the legislature and signed by President Muhammadu Buhari.
What this means
Import duties are one of the essential tools used to reduce importation or restrict foreign trade in the country.
Asides from the fact that it will encourage more people to pay their duty and make vehicles available to Nigerians, it will also make the country earn more revenue to the growth of the economy.