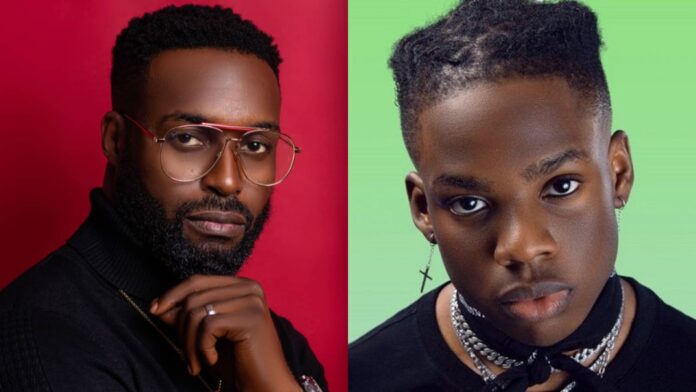 On Thursday, November 25, 2021, the Nigerian music industry was hit with controversy, as Divine Ikubor, who's otherwise known as Rema, called out popular disc jockey, DJ Neptune, over a song the latter included in his recently-released album.
In a series of tweets that got tongues wagging on social media, Rema alleged that DJ Neptune released a collaboration between them without his permission.
Umaskng.com understands that the song in question is titled, For You, and it's the fourth track on DJ Neptune's second studio album, Greatness 2.0, which premiered on Friday, November 26.
Insisting that the song should immediately be yanked off the body of work, Rema threatened to embark on war even though his principals Don Jazzy and D'Prince would not approve of it.
The tweets read: "With all due respect chief! Dropped my old record without due process?!! I'm not happy at all. @deejayneptune.
"Don't violate the codes, can't drop my song without my notice, can't even remember the last time we spoke big bro, I pleaded with my manager behind the scenes when y'all tagged me before it dropped, y'all still went ahead! C'mon nau!.
"This GAME! Don't ride on my humility, there are some things I can't be talked out of and number 1 is my ART, if you're not ok with it then if it's war it's WAR. Don J go vex for me, Baba forgive me but this no join at all.
"This GAME has slapped me too many times on the cheek, I dey quiet because I get people interest to protect and a family to feed. Abeg I sabi mind my business but make nobody vex me o.
"Lastly, TAKE MY SH** Down! I'm finna make new enemies after this, but God big pass INDUSTRY."
DJ Neptune addresses the allegation from Rema
Addressing the intellectual property theft allegation by Rema, DJ Neptune released a statement, where he blamed everything on misunderstanding, and lack of proper communication.
In the statement, DJ Neptune said contrary to the Lady singer's claims, he followed due process before the song was released, and the miscommunication was between Rema and his management.
"I would like to categorically state that I am not in any way upset with Rema as it is obvious that proper information was not passed across to him through his available channels, and as a respectable human being, I only felt it was just normal for me to follow due process in anything I do and that was the step taken," he stated, as he shared screenshots of mail exchanges and chats between him and Rema's representatives.
Although Rema was yet to react to DJ Neptune's statement at the time of filing this report, there is confusion in the air, with many people wondering if it was indeed a case of misunderstanding.