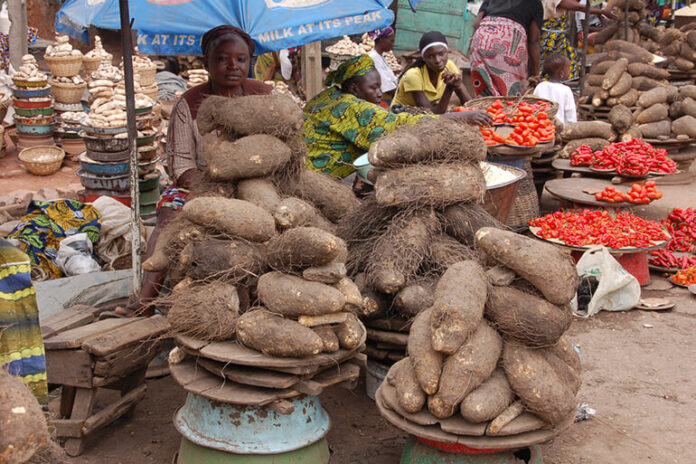 In the past few months, many Nigerians have been faced with the harsh reality of paying more to buy food commodities, especially farm produce harvested within the country. Amongst them was one Akinola Abdulkareem, who wrote on Twitter: "Food is now overtly expensive, no one is talking. As middle class Nigerian, we eat overtly thrash before because even then, we cannot afford the very good food. Now, even the piece of thrash is now overtly expensive…."
Like Abdulkareem, another Twitter user, Paul Bolaji wrote: "Tomato is f**king expensive, a basket is now 24k."
The above assertions are the reality faced by many Nigerians across regions. Arbiter understands that the prices of farm produce have gone up as much as 30 per cent, leaving the Nigerian citizenry in a state of exclamation.
Here's why…
Farmers who spoke to Unmask NG, blamed the development on many factors, some of which are -insecurity, unfavourable inflation rates, and climate change.
Speaking with this publication, Ojebola Matthew, the CEO of Cibo Prima Farms, revealed that "the high price of farm produce is due to the high cost of the inputs used in farming. Everybody does business to make profit, likewise farmers. So, when there is high cost of inputs, prices are naturally affected."
Ojebola exemplified his point, citing how much farmers pay to cultivate an acre of land. His words: "For instance, last year, to cultivate an acre of land in my own locality was N8,000, but now it is over N10,000. The exchange rate is also not friendly to the naira. There is a high cost of tractors' spare parts, diesel is expensive, fuel is expensive, fertilizer is expensive, and all."
He continued: "Another thing is unfavourable climatic conditions. Like now, the weather has been so unpredictable. We have been experiencing less rainfall, and this has been happening since last year. There is no more mechanized or irrigation pond. Most farmers are conventional farmers, they are not into mechanised farming as such. And the government too is not helping, mechanised or irrigation Farming is expensive.
"Insecurity, the rate of insecurity in our farm these days, is underreported. A lot of people have abandoned their farms. Personally, I have three security personnel on my farm. Last year, I lost about 15 acres of cassava to herdsmen. Our farms are not secured, the farmers are not secured as well. Just about six weeks ago, one of my colleagues was kidnapped on his way to the farm, and since that time, he has not been to his farm, and as a result, everything he has planted there, is a waste."
Corroborating Ojebola's claim, Akintobi Olanrewaju, the founder of Lanse Farms, stated: "Inflation has affected the prices of food commodities in the market, and especially the things we used in growing our crops. If we look at the change in the price of dollars, the cost of even renting a tractor, amongst other things, you will realise that it is normal we also increase our farm produce.
"More so, during the COVID-19 lockdown, many farmers didn't have access to basic input needed for production, and also many of them could not even access their farms. The food production for last year was very low, and you will agree with me that the consequence of having higher demands of low-supply commodities will definitely be an increase in price.
"The insecurity in the country is also another alarming factor for why farm produce is now very expensive. I'm aware that at Katsina, people couldn't cultivate about 60,000 hectares of land, and what you can get from there was over N4.4 billion from maize planting. All these were lost due to insecurity…Now imagine the other places that insecurity has affected that we don't even know. Look at Zamfara, Benue, Nassarawa, and Niger State, and even some parts of Abuja, and the South, you will realise that farmers are now leaving their farms. And if farmers are leaving their farms, the quantity of food from the farm will be low, and we have over 200 million mouths to feed..
"Another thing is that the average cost of things used in farming has increased. We cannot not also talk about climate change, which is now a big problem. Last year, when some farmers planted maize, their maize turned to popcorn in the soil because there was no rain. When you have five weeks without rainfall, all the plants that are still germinating, which need more water, will naturally dry off. The productivity you get from that will be very low compared to what you expected. So, investments are lost, food production is reduced."
Another farmer who doesn't want to be mentioned in this report blamed the increase of farm produce on the factors he claimed could have been avoided. "Would I be the one to solve the issue of insecurity? The herdsmen are really causing grievous harm to farmers, most of which you don't even read in the newspapers. Climate change is also affecting a whole lot, and the reality is how many farmers can afford to irrigate their farms now? All these inputs are now very expensive, and the effect is what consumers are experiencing," she stated.
Meanwhile, an analysis of the country's gross domestic products (GDP) by Statisense, a data analysis platform, revealed that the agric sector grew at an average of 15 per cent in the past five years of the President Muhammadu Buhari-led government.
The percentage at which the sector grew, according to Premium Times, was low compared to how it grew in the past. By comparison, the sector grew by 133 per cent under former President Olusegun Obasanjo's administration; 19.1 per cent under former President Musa Yar'adua's short tenure and 22.2 per cent under the immediate-past President Goodluck Jonathan's government.