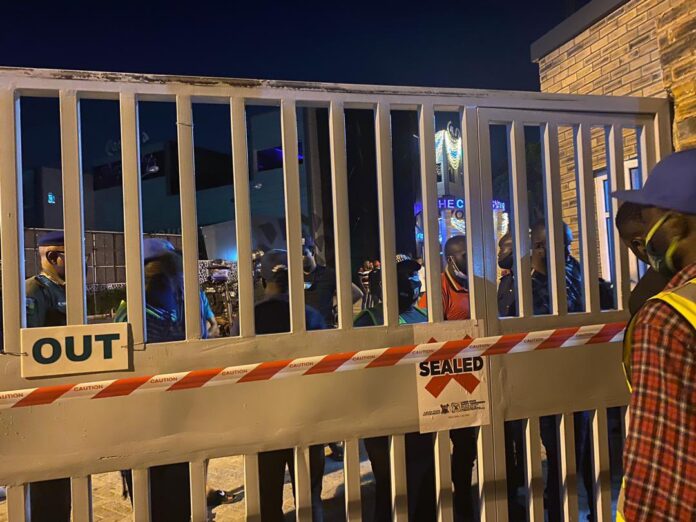 Cubana Nightclub, the nightlife destination for many Lagosians, has been shutdown.
In an operation led by Lagos State Commissioner of Police, Hakeem Odumosu, security officials, in the early hours of Sunday, December 20, 2020, dispersed fun-seekers at the club's premises, as it was sealed off.
Unmask NG learnt that the Cubana Nightclub in the Ikeja area of the state was shutdown for violating the state's COVID-19 guidelines.
Disclosing this development, Gboyega Akosile, the Chief Press Secretary to Governor Babajide Sanwo-Olu of Lagos, tweeted: "Just in: @followlasg @lagossafety and @PoliceNG Lagos State Command sealed off Cubana night club for disobeying the State's #COVID19 protocols."
The closure of Cubana however came barely a day after Sanwo-Olu re-introduced COVID-19 restrictions in the state, as the second wave of the infectious disease looms.
"There is an unfortunate public perception that the state has seen the end of the COVID-19 pandemic, which is wrong and dangerous.
"We are getting credible reports that the entertainment industry is planning large gatherings, concerts, street parties, and carnivals, in the spirit of the Yuletide. Night Clubs have also re-opened in reckless disregard of the existing guidelines, and Events Centres are operating with huge gatherings without any regard for public health and safety guidelines.
"This same disregard for Coronavirus guidelines is also being observed with Places of Worship across the State, in both their regular gatherings and the special gatherings organised to commemorate this Season," the governor said in a statement.
Below are the COVID-19 restrictions:
•All public servants from GL 14 and below, except emergency workers and first responders, are to work from home as from Monday, December 21st for the next 14 days – in the first instance.
•All schools must shut down with immediate effect, and until further notice.
•Concerts, carnivals and street parties are banned in Lagos State until further notice.
•Night Clubs have not been allowed to open yet. All Night Clubs in Lagos must immediately shut down, until further notice.
•The midnight to 4am curfew imposed by the Federal Government remains in place.ADVERTISEMENT
•The protocol of 'No Mask No Entry' must be enforced by all public places: Offices, Businesses, Markets, Shops, and so on.
•All Places of Worship (Churches, Mosques, etc.) must ensure that no gathering exceeds two hours, and also that no gathering exceeds 50% of the maximum capacity of the Venue.
•All Event Planners must obtain prior clearance from the Lagos State Safety Commission (www.lasgsafetyreg.com) for all events, and ensure that any planned gatherings do not exceed 300 people.
Meanwhile, while over 77,000 people have contracted the virus in Nigeria, about 1,212 have passed away from it.