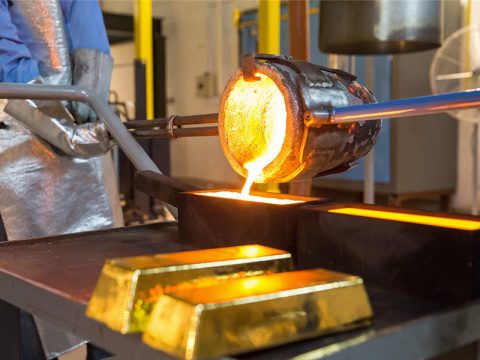 Zamfara has secured a N5billlion gold refinery deal from the Central Bank of Nigeria (CBN). The state governor, Bello Matawalle made this disclosure.
Addressing journalists during a press conference, Matawalle explained that the new deal is to strengthen the state government's commitment to supply refined gold.
The Zamfara governor further revealed that the state would begin to supply gold in accordance with the total amount secured, later in the year (2020).
His words: "Following the global acceptance of the high quality of the gold dug from the state, the apex bank approached us with the deal, which we believe is good business.
"At the moment, we have commenced our gold reserve with this 31 kilogramme of pure gold and I have presented the sample of the commodity to the president.
"This is the first of time, in the history of our country, that a state will discover its internal potential in gold and channel it in developing the economy of the state."
He further made known that the state's gold reserve would be deposited in an undisclosed designated place, which could be utilised in times of need.
"We have to diversify our state economy, especially with the bitter economic experience we went through as a result of the COVID-19 pandemic, collapse in oil prices and other economic uncertainties cutting across the globe.
"In gold, however, we expect better and higher returns than in other stocks because there is a higher multiplier effect in gold and it will enhance the gains of our local miners towards the attainment of the Zamfara of our dream," he revealed.
Gold Business in Nigeria
Refined gold business is one of the most lucrative businesses anyone can venture into especially as a country because it comes with so many benefits. Asides from the fact that it provides employment for people, it has a positive impact on the balance of payment, foreign reserves, and monetary policies of a country.
It is however an open secret that Nigeria has over the years, relied heavily on crude oil for foreign exchange earnings and government revenues. As with the mono-economies, this reliance makes Nigeria vulnerable to fluctuations in crude oil prices and production, which has overtime tell on the country's comfortability.
With this Zamfara State's gold refining project, it is most likely that the Nigerian government will have the opportunity to explore a multifaceted economy, which many economic experts and international bodies have said will boost the country's economy.