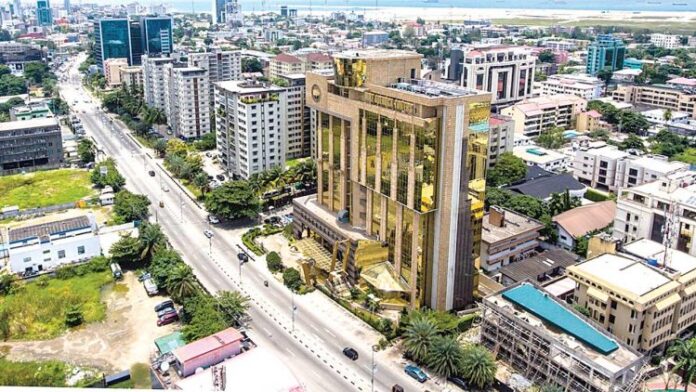 Estate Intel, a real estate think tank, has disclosed that property and infrastructural development in Lagos across the real estate sector increased by 19% in 2021. 
The agency made the disclosure in a recently released report analysing activities in the city's thriving construction industry.
In what marked a return to market activity in the city's construction industry, the 19% increase in 2021 was a huge leap from 2020 for the state.
According to the leading real estate data company, the growing incursion of investors into key sectors like offices, residential and healthcare played a crucial role in the increase of property and infrastructure development in the state. 
It added that, though not much interest has been shown in prime offices investment as the vacancy rate still remains relatively high, developers have continued their foray into the market with sheer aggression "with over 600,000 square meters of space under development."
The report also noted that activities in key areas such as residential and healthcare have not been convincing as they both remain undersupplied, but it pointed out that such lacuna presents investors with exciting and massive opportunities. With both sectors recording under 2.5% of the total stock point across the market, there's every reason to be optimistic about the future.
Conversely, activity in the retail sector is likely to continue at a slow pace even though vacancy levels are expected to remain high, this development can be attributed to poor and painstaking access to the vital foreign exchange needed for imports, a currency steadily losing its value, and a brutal rise in unaffordable rents.
"The momentum that began building at the end of 2020, was sustained throughout the year with a slow and steady return to construction and real estate activity. However, currency challenges and longer-term trends such as the sustained oversupply in the retail and office sectors are likely to tip the scale upon completion of some of the projects that we await in 2022 ultimately impacting on occupancy levels and achievable rents," Dolapo Omidire – CEO, Estate Intel, said
You can download and read the full report here
What this means
Due to its ever-increasing population and economic viability, Lagos has become a coveted destination for those who are seeking a greener pasture and change in fortune, this has placed enormous weight on the infrastructure and amenities of the state. However, an effort to address its infrastructure deficit, especially in the area of housing and property development, provides opportunities for real estate investors.
But these opportunities in the real estate industry have not reflected positively on the average Lagosians with house rents becoming increasingly unaffordable.