In late February 2020, Nigeria recorded her first case of the novel coronavirus, when an Italian businessman who travelled into the country on a Turkish Airlines flight, was diagnosed of the infectious disease in Lagos.
As of Thursday, April 2, the number of confirmed cases has increased to 184. And in a bid to curtail the virus spread, the Federal Government had shutdown business activities and restricted movements in some states in the country.
Complying to the restrictions has become a mammoth challenge for millions of Nigerians, who solely rely on daily earnings to feed themselves and their families. Consequently, the shutdown hasn't only stalled their business exploit but has also brought hunger to them.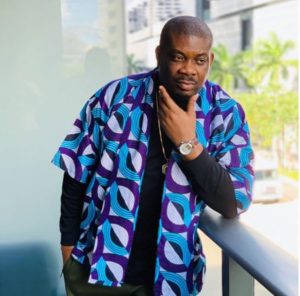 Just as banks and wealthy Nigerians are donating billions of naira to help the President Muhammadu Buhari-led administration fund the country's medical centers, and at the same time, provide essential materials needed to curtail the spread of coronavirus, celebrities are encouraging people to stay-at-home with social media giveaways, which is believed to be shelving the hunger that already exists among Nigerians as the consequence of the lockdown.
Nigerians are no longer hiding in their feelings to openly request for financial support. As a matter of fact, bank account details are now being broadcasted to celebrities on social media, as many believed they are financially buoyant enough to at least feed them for the period of the lockdown.
Among the celebrities largely putting smiles on people's faces are -Runtown, and Don Jazzy.
Prior to the lockdown, which halts economic and social activities, Runtown whose real name is Douglas Jack Agu, announced that he will be donating a whooping sum of N10 million to Nigerians on social media.
The money, according to the 'Mad Over You' singer, is to help Nigerians stock up on survival essentials.
He tweeted, "HOPE EVERYONE IS STAYING SAFE. TIMES ARE EXTREMELY TOUGH AND I AM CERTAIN THERE ARE PEOPLE WITH NO MONEY TO STOCK UP ON SURVIVAL ESSENTIALS. WILL BE GIVING OUT 10 MILLION NAIRA TO THIS CAUSE. KINDLY DROP YOUR ACCOUNT DETAILS.
"NOTE: OBVIOUSLY 10 MILLION NAIRA WOULD NOT GO ROUND, SO IF YOU HAVE OTHER MEANS TO SUSTAIN YOURSELF, RESPECTFULLY DON'T SEND IN YOUR ACCOUNT."
Similarly, Don Jazzy in his usual gesture of assisting Nigerians financially, has been very aggressive in providing relief for those who sought it from him.
Although, the legendary producer didn't announce to donate any particular amount of money, but as seen on his Twitter timeline, many people are affirming his donations, as he credited them with money.
Why this matter
Nigeria happens to be one of the countries in Africa with food-deficiency. The lingering food crisis in the continent's most populous nation has resulted in distressing levels of stunting in the under-age, which is caused by high rates of poverty.
Arguably, Nigeria, a country that prides herself as the giant of Africa, is one with more than half of her citizenry living below the poverty line.