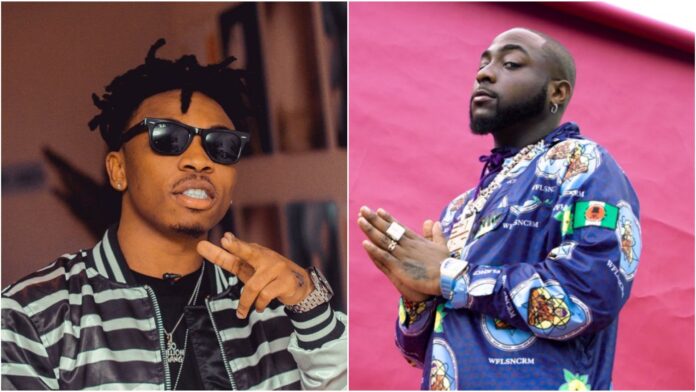 Popular singer Mayowa Adewale, otherwise known as Mayorkun, has disclosed that none of the songs he has with Davido, his record label boss, fit into his new album, Back In Office.
Unmask NG understands that Mayorkun is a signee of the Fem singer's imprint, Davido Music Worldwide (DMW).
Speaking about his sophomore album, which would be released on Friday, October 29, 2021, Mayorkun explained that Davido is not featured on it considering the fact that the Back In Office body of work is not tailored to the kind of songs they both have together.
"Most people don't know how creating an album works; sometimes, it's a group of songs you've had way back and just compile together.
"The songs that we have together I don't feel like it's for this album but for a later time.
"I and Davido have songs together and it is not a situation that I took out his song for my album," Mayorkun said as he discussed the project with OAP Ebuka Obi-Uchendu.
Mayorkun's Back In Office will premier three years after his debut album The Mayor of Lagos was released.
How Davido signed Mayorkun
Mayorkun, the son of Toyin Adewale, a veteran Nollywood actress, was a bank staff until 2016 when he posted the video of a cover he did to The Money, 2015 hit single Davido featured indigenous rapper Olamide on.
"I was bored at the office, a bank, one day; just while I was pressing my phone, I impulsively posted a video I had recorded, where I was playing the keyboard of one of Davido's songs, The Money, on Twitter.
"I wasn't expecting anything. It was on a Friday and I was supposed to resume work in another bank the following Monday. Well, Davido retweeted the video. And he later sent me a direct message asking if I had other things I did besides playing the keyboard. I told him I had some songs. I sent like six songs. He liked one of them. He said if he came back from ATL (Atlanta, Georgia, USA) he will sign me on. He collected my WhatsApp number. Because I was shaking, I typed the wrong number, but like they say, the rest is history," Mayorkun was quoted as saying in an article published on Blue Print.
Since he joined the record label, Mayorkun and Davido have featured each other on quite a number of hit songs, that include –The Best, and Betty Butter.