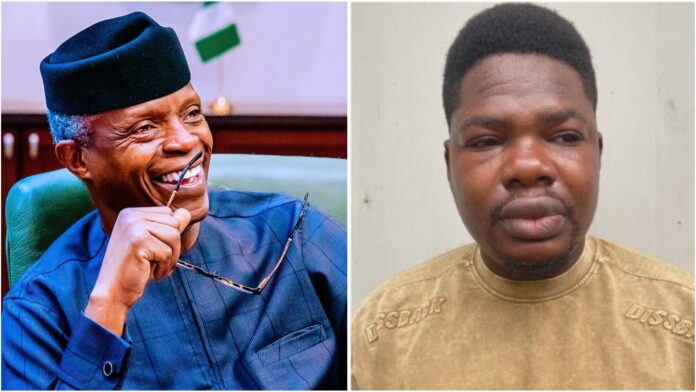 Popular skit maker Mr Macaroni may have been blacklisted by the President Muhammadu Buhari-led government, as he was absent from a meeting Vice President Yemi Osinbajo had with his colleagues in the entertainment industry.
Osinbajo, on Wednesday, November 3, 2021, met other Nigerian Instagram comedians under the auspices of Nigeria Skits Industry Awards (NSIA) but left Mr Macaroni out.
This development may not be surprising to many people, as Unmask NG also understands that Mr Macaroni is a strong critic of the incumbent administration.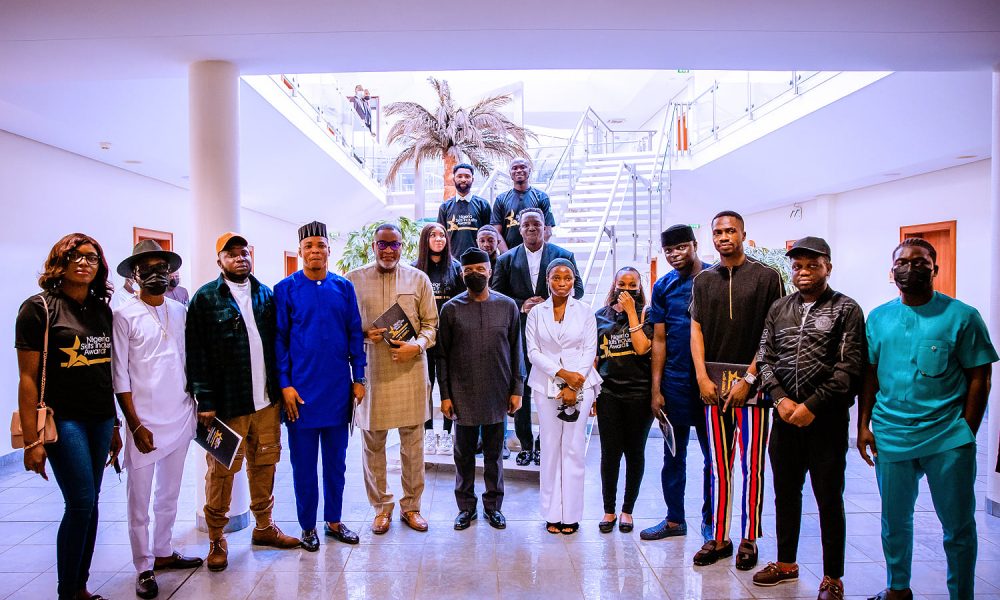 During the #EndSARS protests that shut down the entire country last year (2020), Mr Macaroni led a group of other protesters to the infamous Lekki Tollgate, during which he was arrested and tortured.
While expressing his ordeal in the hands of men of the Nigeria Police Force (NPF) after he was arrested for demonstrating his civil rights, he stated: "If the word was not out that people were already being arrested, people would have died. They were telling us that 'we'll shoot you and nothing will happen'. I'm sure if this was at night, we would have all died.
"They took us to Adeniji where we were beaten and stripped naked. Everyone was beaten. These people didn't care about anyone. They beat me, saying I'll have a sense by force. They also destroyed my phone.
"So, we're in a serious shame but it's not to silence our voices. They cannot continue to oppress. Those of us that have the voice will continue to talk.
"Have we gotten justice for what happened last year? Is opening the tollgate the next line of action?" Mr Macaroni queried.
Receiving other Nigerian Instagram comedians like –Maryam Apaokagi, popularly known as Taooma; Josh Alfred (Josh2funny); Ayo Ajewole (Woli Agba); Adebamiro Adeyanju (Mr. Hyenana), Adeoye Adeyemi Elesho (Yemi Elesho), among others, Osinbajo charged them all to create content that would enhance nation-building.
"Why I think this engagement (with skit comedians) is important is because this is the way to go. Let us sit down and look at all the issues and come out with realistic positions that can then become policies, and what sort of support will be required," Osinbajo stated.
Meanwhile, Mr Macaroni had explained why he was absent from the meeting, saying he had to decline the invite because he's not happy with the leadership of the country.
According to him, the meeting was baseless considering the fact that the government knows the grief of the Nigerian citizenry.
His statement read: "First, I do not think there is an association of skit makers. If there is, then I don't know anything about it. And that would be fine because I am an actor/thespian first before the tag 'skit maker'.
 "So I don't think those that went to see the VP without me or anyone else meant to sideline me. I want to believe they were invited to see the VP by the organisers of an award ceremony the same way I was invited. The only difference is that I declined the invitation.
"The reason I declined is simple. As a citizen, I'm not happy with our leaders and I do not want to associate with them. It's okay if others believe that sitting with the government will change certain things and decide to try it out. I don't think they should be crucified for that.
"I have just seen too much to know that the government sees and hears everything. They and their workers are always on the Internet. They know what we cry and complain about and they do nothing about it. So, what will sitting down with them to tell them what they already know change?
"When politicians say they want to engage me, I always tell them to pick a public place, where all members of the press will be present. So that I can say my mind as I see it. When they are begging for votes, they come to us publicly. So, why do you want to see me privately?''
Mr Macaroni, however, maintained that he keenly desires a better Nigeria for everyone, including himself.
"I am no hero or saint. I am not perfect. I am only a concerned citizen who wants a better nation for myself and for every other Nigerian. I use my voice, my craft, and my platform to do this and I have been greatly persecuted for it.
"This is who I am. It is who I have always been, even before fame. I have suffered so much for it and sometimes I ask myself why I am the way I am. But anytime I remember how many lives I have been able to impact positively, I am at peace with myself," the comedian added.