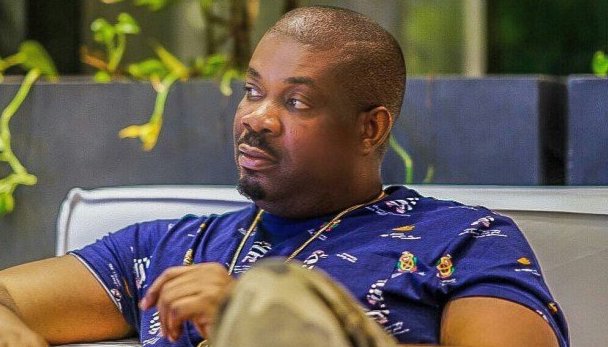 Music executive Micheal Collins Ajereh otherwise known as Don Jazzy has revealed that most record labels don't thrive in Nigeria because their leaderships are too figure-driven.
During a live conversation with UK-based Nigerian broadcaster Adesope Olajide, the Mavin Records label boss said in the course of exploit, quite a number of investors from different sectors of the economy, including banking, and oil and gas, have worked up to him to express their interest to set up record labels.
According to Don Jazzy, he usually laughs each time that happens because most of them don't have "the balls" to put their monies and resources into music.
"When I sit down, look at bankers, and those in the oil and gas sector, expressing their interest to invest in the music business, I just laugh. They usually come, telling me that they have a certain amount of money and they want to float record labels with it. I just look at them and laugh. I do this because most of them don't know what the business requires to make it thrive," he said.
Referring to the potential investors, Don Jazzy noted that they are too figure-driven, and with that, their chances are slim to make their ventures thrive. "I know it doesn't make sense, but it would, eventually," he added.
The highly-revered music producer, therefore, advised that anyone seeking to invest in music must be very passionate about the art, and he or she should be someone who's care-free about returns.
"If you don't have the mind of spending and not get your money back, you can't run a record label in Nigeria. You are going to have to spend, be selfless, and if not, you would pack up one day. The demand from your artiste per the success you want to have and keep up with industry competition will require you to go very deep into your pocket. So, if you don't have a passion like mine, you would suffer.
"With Mavin Records, I just did not care; as long as I'm eating, I'm fine. I invest every other money I have in music projects for my signees," he counselled.
When asked why he floated Mavin Records after running Mo'Hits Records alongside D'banj, Don Jazzy said he noticed that back in the days, there were no record labels established to help talents.
"All I knew then was that I wanted to build a beautiful record label and an entertainment company that is a powerhouse for developing artistes in Africa. We didn't have one. There was none in Nigeria at the time aside from one… I felt like there should be one that discovers people and send them out to the world. This is still the goal for me -to find the young people and take them global," he explained.
Watch the full interview below